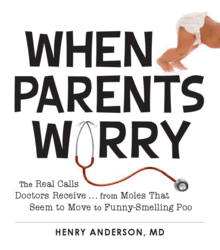 "I love my patients. Sometimes they ask really funny questions. But no question is too crazy."--Henry Anderson, MD
New York, NY (PRWEB) January 07, 2013
Henry Anderson, MD, a pediatrician in private practice, commissioned a YouTube video by comedian Jessica Kirson to promote his new book, "When Parents Worry: The Real Calls Doctors Receive…From Moles That Seem to Move to Funny-Smelling Poo" (Adams Media, 2012). The book features a collection of the funniest questions parents have asked Dr. Anderson over the past 20 years.
These well-meaning moms and dads have made hundreds of distressed phone calls to Dr. Anderson, concerned about everything from their child eating crayons to the risks of sitting on Santa's lap. This book celebrates the chaotic world of stomach aches, bumps and bruises, and unnecessary pangs of worry with real phone messages from concerned parents.
The video features four quotes from the book, each performed as a different character by Jessica Kirson. The video is hosted on TheJessyKShow, a YouTube channel created by Jessica and producer Jon Fursh with over 100 comedy videos and 30K subscribers.
About Henry Anderson, MD
(Henry Anderson is a pseudonym the doctor is using to protect the privacy of his patients.) Dr. Anderson practiced pediatrics in New York City for many years and now practices in Pennsylvania. He has been answering parents' questions with patience, understanding, and a wry sense of humor for more than twenty years.
About Jessica Kirson
Jessica was awarded "Best Female Comic" by the MAC Awards in 2009. Over the past decade, she has made appearances on The Tonight Show, The View, Last Comic Standing, and Celebrity Apprentice.
To see the video, visit http://youtu.be/Hp5zDN3RdDw
For more information, visit http://WhenParentsWorry.com