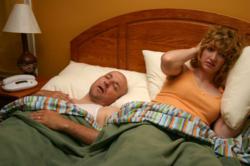 In all dimensions, the treatment effect had a great influence, not only on patients but on bed partners as well.
Bellevue, WA (PRWEB) January 02, 2013
What's lost in treating disease is the effect on the people around the patient. Sleep apnea, which affects nearly 20% of the population, can be resolved in a number of ways. New information, published in The Swedish Dental Journal, reports that bed partners of treated people have improved health as well.
Snoring and Obstructive Sleep Apnea are conditions diagnosed by sleep specialist physicians that disrupt sleep by closing the airway – from a few times a night to many times a minute. Not being able to breathe creates severe body responses, from excessive sleepiness during the day to increases in stroke, diabetes and high blood pressure. The Swedish study focused on shorter term, quality of life measurements.
They asked snorers and sleep apnea patients and their bed partners about their ability to concentrate, joy, interest in social interaction and other gauges of life enjoyment. To no one's surprise, treating the condition improved scores for the patients, but what is striking is the jump in ratings for the bed partners. They concluded 'in all dimensions, the treatment effect had a great influence, not only on patients but bed partners as well."
70 – 80% of patients and 55 – 68% of bed partners showed improvements in general well being and physical strength following successful treatment of the obstructive sleep apnea using a custom oral device provided by a trained dentist. Scores improved in every measurement.
"One of my most frequent comments to patients is that I am likely treating two people at one time' says Dr. Carstensen. "The reason most people seek therapy in the first place is due to bed partner complaints. Oral appliances help make breathing smoother and quieter during sleep, allowing both parties to enjoy more restful sleep" This study puts science behind what Dr. Carstensen has observed in his patients for years.
Other studies have linked improvements in sleep breathing disorders to lowered blood pressure and fewer cardiovascular problems over time. Lowered heart stress improves longevity and decreases chances of sudden cardiac death. "Dentistry improves quality of life by making attractive smiles, healthy gums, and correcting decay; this rarely helps someone live longer. Treating sleep apnea allows me to offer people a way to fix a problem and almost certainly let them live longer, healthier lives' adds Dr. Carstensen
Treating sleep apnea begins with using positive air pressure through a mask and hose connection to an air pump, called CPAP. This therapy, while effective, is not accepted by the majority of patients. Sleep physicians then rely upon trained dentists to provide custom oral appliances, similar to night guards used for tooth grinding, to open the airway. Many studies show patient acceptance of oral appliance therapy to be more than double that of CPAP.
Most dentists do not have the training to provide medical care for these patients with the sleep physicians; advanced education is necessary. Qualification as a Diplomate of the American Board of Dental Sleep Medicine shows commitment to the field through passing a rigorous examination and providing case reports of successful therapy using oral appliances.
Additional information can be found by contacting Dr. Steve Carstensen at 425-746-0021, by email at stevec(at)stevecarstensendds(dot)com, on Facebook at Steve Carstensen DDS, or at SteveCarstensenDDS.com