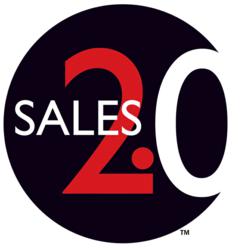 On social networks you won't get information bundled into a neat package.
Santa Cruz, CA (PRWEB) January 31, 2013
Sales Dot Two Inc. today released an initial agenda for its upcoming Sales 2.0 Conference on April 8-9 event in San Francisco at The Four Seasons Hotel.
Several keynote speakers will specifically address the ways in which successful companies and leaders are adapting to create stronger and more profitable relationships with B2B buyer.
"Given how quickly and dramatically buyer and seller relationships have changed, we decided to invite two of our most popular speakers from past events, CRM expert Jon Ferrara, and bestselling author Jeffrey Hayzlett, to return in April," says Events Director Larissa Gschwandtner. "Each of these speakers will bring fresh ideas about how sales organizations can adapt to sell effectively to today's B2B buyer."
In his keynote, "Revolutionize Your Company by Turning Conversations into Customers & Relationships into Revenue with Social Selling" Ferrara will explore how sales organizations can leverage social channels to engage with customers and create new buying channels. Ferrara has more than 20 years of experience in customer relationship management (CRM) and sales force automation (SFA). He founded GoldMine CRM in 1989 and is currently CEO of Nimble LLC, which he also founded. He is a strong advocate for the value of social CRM.
"To be a successful social business today, you have to have a complete picture of the communications happening with your customers," Ferrara wrote in a recent blog post, "Tips for Connecting with Today's Prospect Using Social CRM."
"You have to understand what they're saying to the world, what they're saying to your company, and what your company is saying to them. On social networks you won't get information bundled into a neat package that you can upload into your marketing automation software, but you will put your finger on the pulse of the real issues facing your customers, in their own words. And if you use a social CRM, you'll be able to connect these conversations with your email communications for a full picture."
In his keynote, "Achieving Great Expectations: The Mirror Test for Today's Sales Organizations," Jeffrey Hayzlett will outline the management, sales, and customer service techniques that currently characterize top-selling organizations. Hayzlett is known for showcasing his business insight across diverse platforms. He is an author and former Fortune 100 C-suite executive; Forbes magazine called him the "Celebrity CMO" because of his countless media appearances, including Donald Trump's Celebrity Apprentice. His keynote at the April event will address:

Critical questions sales leaders must ask about their sales organizations.
The biggest challenges facing the C-suite today and how to address them.
How the sales team can match selling styles to the personalities and buying behaviors of customers.
Essential social media rules that will engage customers and energize any sales team.
"These are two speakers who have a rare ability to convey their ideas about business strategy with great passion," Gschwandtner says. "We're looking forward to seeing how they inspire our audience of sales and marketing leaders this year."
The Sales 2.0 Conference is the number one industry event devoted to excellence in leveraging Sales 2.0 solutions. The Sales 2.0 Conference focuses on the challenges and concerns of B2B sales and marketing executives. Get updates via Twitter @Sales20Conf #s20c. To register, get a media pass, read testimonials, or watch video from past events, visit the April 2013 Sales 2.0 Conference homepage, http://www.sales20conf.com/SF2013/about.html.