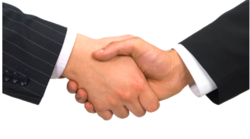 A person should use their personality to be a better businessperson...An important, yet often overlooked, key to sales is simply exuding enthusiasm for a product/project and making it contagious.
Austin, TX (PRWEB) January 03, 2013
Sales can be difficult, but there are certain things to remember and do that can make closing deals easier. Here are ten strategies to keep in mind:
1. Remember that Sales is a Numbers Game
Point out to team, need to understand and know conversion rate and use the number to make the correct number of calls to make budget. Call volume is determined by quantity and quality; a good call volume is only as good as the quality of the calls that are made. However, there's more to it than that. It's important to know how many no's equal a yes. While closing sales is done via email, the majority of selling is done on the phone or face-to-face.
2. Always Be Prospecting
What can be done to find new clients? One should explore different avenues for seeking them out: LinkedIN, press releases, network lunches, etc. Something as simple as a chat on an airplane or in line at a coffee shop could lead to a new partnership!
3. Become a Meeting Maniac
The more meetings there are, the more chances there are to close. It's important to take every opportunity that is available to set up as many meetings as possible.
4. Have Never-ending Energy
A person should use their personality to be a better businessperson. It's important to develop a personal passion for the projects that one is pitching. After all, it's difficult to imagine a customer getting excited about a product or a project when the person who is trying to sell it lacks excitement. An important, yet often overlooked, key to sales is simply exuding enthusiasm for a product/project and making it contagious.
5. Utilize a Call Sheet and practice Call List Discipline
It's a good idea to use a customer relations sales system (CRM). A CRM can be used to put contacts into a database, email the customers directly from the database, set tasks, and log emails and call notes. It's a great way to keep a detailed log for every contact, client and prospective client, which is endlessly helpful in staying organized and ergo appearing professional.
6. Ask the Critical Questions
Great sales people talk 20% of the time and listen the rest of the time. One good approach for salespeople is for them to consider themselves journalists. The goal is to ask the right questions, keep the client talking and keep digging up new information and developing new insights that can be used to close the sale. (After all, if there's one certainty about socializing, it's that people like to talk about themselves.)
7. Understand 3D Sales
-The first step is identifying the problem.
-The second step is determining how much money the client has to fix the problem.
-The third step is setting a success meter in place to track leads.
8. Know the Importance of the Unique Value Statement
This can simply be a fact. The unique statement is just how the company can be talked about in a short statement.
9. Keep in Mind That Email Does Not Sell
Use email for follow-up. Email isn't sufficient for every step of the process. Even talking on the phone allows tone and personality to be conveyed, while meeting face-to-face allows emotion to be on display and provides more of an opportunity for connection.
10. Understand Rejection
A positive way to think about rejection is remembering that each one is one call closer to a sale. If one knows their close rate, then this is simply a numbers game.
Click here to watch the webinar now.
Shweiki Media's mission has always been to help publishers improve by providing the most profitable, hassle-free printing experience possible. This includes guaranteeing the highest quality product, exceptional customer service and on-time delivery.
When it comes to publishing and printing magazines, catalogs, posters, fliers and more, Shweiki Media also believes that this hassle-free experience includes making their clients better. Utilizing relationships with industry experts, Shweiki Media strives to educate clients and help them thrive in the exciting world of publishing--while having lots of fun along the way!
For more great info from and about Shweiki Media, please check out shweiki.com, follow us @ShweikiMedia and "like" us at Facebook.com/shweikimedia.