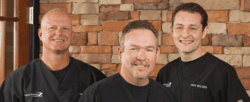 Fort Worth, TX (PRWEB) January 02, 2013
The doctors At Fort Worth Dental, Dr. Terry M. Zang, Dr. Arthur J. Mund and Dr. Justin Mund, are stressing the importance of proper oral hygiene and gum disease prevention after reading about a recent study published by The University of California that suggests there is a connection between gum disease and dementia. Gum disease, which can be a result of poor oral hygiene, has been connected to many other health problems including heart disease, respiratory problems, diabetes and stroke, just to name a few.
Gum disease may seem rather harmless at first, and many people do not even have initial symptoms. Others notice gums that are occasionally red or swollen or find that their gums tend to bleed easily. As the disease advances, additional problems can arise, such as receding gums and loose teeth. Teeth can be lost and the jawbone can continue to deteriorate. Even in the relatively early stages, the bacteria causing the disease can enter the bloodstream through open sores in the gums.
Once the bacteria enter the bloodstream, it can travel throughout the body. Some of the dementia studies showed that patients with Alzheimer's disease had a higher percentage of bacteria in the brain that was traced to gum disease than patients without Alzheimer's disease. Although the results are not conclusive, these and other studies continue to point toward the fact that dental health and overall physical health are connected.
It makes sense to follow the advice of a dentist and properly care for one's teeth. People who are not sure they are brushing correctly can do a little research or ask questions the next time they have an appointment for a cleaning. More information about gum disease and its connection to other health problems can be found at http://www.fortworthdental.com.
Fort Worth Dental is a general practice offering patients personalized dental care for Fort Worth, TX. Dr. Terry M. Zang, Dr. Arthur J. Mund and Dr. Justin Mund are all dedicated to their dental practice, which offers the recent FDA cleared laser procedure for gum disease and periodontal treatment. Focused on preventative, restorative and cosmetic dentistry, they each have unique attributes for the practice. To learn more about Fort Worth Dental and their dental services visit their website at http://www.fortworthdental.com.