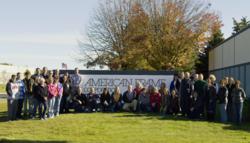 We are an American success story, and we want to celebrate that with the people who made it possible: our customers.
Maumee, OH (PRWEB) January 02, 2013
In 1973 Ron Mickel identified what customers needed—affordable, custom-sized frames that could be put together at home—and he saw that no one else was offering it. His daughter, Laura Jajko, American Frame's current Vice President of Marketing, remembers coming home from school that first day. "Dad was in the garage cutting sticks of metal moulding, and I thought he was a little nuts, that he ought to go get a 'real job.' I'm so very glad I was wrong."
To celebrate Mickel's role as industry founder, and the company's forty successful years, American Frame will launch 2013 with the largest sales-event in its history. It will also be introducing a transformed website with dozens of enhancements, including the ability to build virtual frame packages starting with either the art or the desired finished frame size. The new website will have streamlined text and graphics, enhanced search options, 360-degree views of every frame and an expanded "how to" section.
American Frame began as a company of one—one employee, Ron, and one product, the Standard Metal sectional frame. Forty years later, they don't quite fit in a garage. With 50,000 square feet of space, hundreds of frame styles, hundreds of mats and dozens of tools, plus a professional printing shop that produces works on paper, canvas, Plexiglas® and aluminum, American Frame serves artists, photographers and DIY customers nationwide.
"What the customer needs has always been our main focus," Laura, says. "They still need affordable, custom frames, but they also need framing tools, accessories, and top-quality printing, which has exploded with digital photography. And then there's information. Even when a customer purchases a frame elsewhere, they come to us for knowledge. Our video tutorials, customer service center, email tips, full-color handbook, blog and website "how to" section offer unmatched expertise on everything from printing to matting to hanging. We truly are a single source, start to finish."
Committed to a fully American approach to business, American Frame's production, management, sales and service are all located in Maumee, Ohio. Whenever possible, the company uses American-made products and practices green manufacturing by reducing, reusing and recycling material and participating in programs like carbon-neutral shipping.
"We are an American success story, and we want to celebrate that with the people who made it possible: our customers. Pay special attention to us on Father's Day this year. That will be the epicenter of the celebration."
About American Frame
American Frame provides top-quality DIY custom picture framing supplies and fine art printing services at wholesale prices via its website throughout the USA. Our easy web interface allows customers to design a custom frame treatment for assembly in the comfort of their home. They can also upload a digital image to be printed on canvas or fine art paper and receive framed work ready to hang. All orders are handcrafted in Maumee OH and shipped within 2 business days. Family owned and operated since 1973. Love your art. Frame it right.