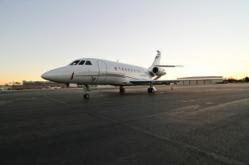 San Jose, California (PRWEB) January 02, 2013
TWC Aviation today announced that a Wi-Fi equipped Dassault Falcon 2000 based at San Jose International Airport is now available for long-range business jet charter flights. This 10-passenger large-cabin aircraft has a range of nearly 3,000 nautical miles with a cruising speed of 479 knots. It is a perfect charter solution for luxurious, nonstop travel to destinations throughout North America, Hawaii, Canada, Mexico, or Central America.
With its many onboard amenities and newly refurbished interior this aircraft truly stands out. The Wi-Fi communications system gives multiple passengers broadband Internet access. The Aircel flight phone connects everyone on board to colleagues and clients, family members and friends anywhere in the world. There is also a CD/DVD entertainment system with multiple monitors throughout the cabin, and a full galley with microwave and conventional ovens, toaster, and coffee maker. Additional features include Airshow moving map display and an enclosed lavatory with vanity.
Passengers will also appreciate the elegant interior, updated in 2012 with tan leather executive seating, high-gloss light wood veneers, and new carpeting. The 10-passenger configuration features a forward galley, followed by a four-place club with oversized captain's chairs. The aft part of the cabin offers a four-place conference table that can be converted into a twin bed, with two chairs across the aisle. The spacious lavatory has a full vanity and walk-through access to the luggage compartment. The exterior also received a new paint scheme earlier this year. As with all the jets in the TWC Aviation fleet, this Falcon 2000 is equipped with the latest safety technologies and maintained to FAA standards by TWC's in-house experts.
For a charter quote or more information about this beautiful aircraft, contact TWC Aviation 800.538.6070 or charter (at) twcaviation (dot) com.
About TWC Aviation, Inc.
TWC Aviation provides aircraft management, brokerage, jet charter, and jet card services to clients worldwide. TWC Aviation manages a diverse fleet of more than 50 business aircraft throughout the U.S. and abroad, with offices in San Jose, Los Angeles, and New York. The company's fleet includes jets from Bombardier, Dassault, Cessna, Embraer, Gulfstream, Boeing Business Jets, and Hawker Beechcraft. TWC Aviation is audited by independent safety organizations: IS-BAO, Wyvern, and ARGUS. Aircraft operate under FAA Air Carrier Certificate BZUA138N. TWC also maintains an FAR Part 145 Repair Station certification. More information is online at http://www.twcaviation.com.