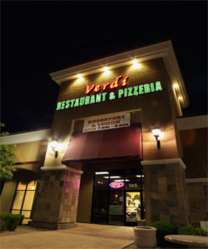 North Las Vegas, Nevada (PRWEB) January 09, 2013
A popular North Las Vegas Italian Restaurant, Verdi Restaurant, has recently included new delectable entrees to its lunch and dinner menu offerings, providing generous portions with unique flavors that satisfy the hearty appetite.
Introducing three new entrée options to the existing menu for this North Las Vegas Italian Restaurant is part of Verdi Restaurant's mission to provide authentic flavor that appeals to a wide selection of patrons.
The owners of Verdi Restaurant believe "Everyone should be able to enjoy culinary delights featuring authentic flavor from various cultures, particularly from the Mediterranean and Italian locales." They continue to expand on their belief by stating that "The human appetite for perfection must be catered to and met with mesmerizing delicacies that tantalize the tongue, satisfy the stomach, and bring intense gratification to the dining experience."
Verdi Restaurant is part of the backbone of this community. It fulfills a basic need that all people have, but it does so in a way that caters to overall satisfaction rather than simply filling an empty stomach. Their unique menu offerings combine fresh ingredients, time-honored recipes, respect for flavor, and a true desire to deliver mouth-watering masterpieces of culinary perfection. They have this to say about their staff, "We only employ chefs who understand the need to love what they do in order to create food that people love to eat."
Inspired by their true love of good food, the owners of Verdi Restaurant opened its doors with a vision of becoming a valued member of this Las Vegas community. Toward that end, the staff at this North Las Vegas location strive to deliver exceptional quality and superlative service in order to bring satisfying dishes to the table. Verdi Restaurant is in the business of providing a wide array of Italian and Mediterranean Catering delicacies ranging from soups, salads, and appetizers to pastas, pizzas, seafood, burgers, and dinner entrees.
Verdi Restaurant
7240 West Azure
Las Vegas, Nevada 89130
702.750.1999
lasvegasverdirestaurant.com