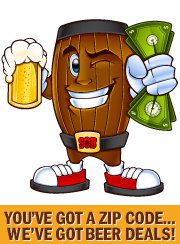 Reviews have a tendency to get stuffy, we like to have fun.
Houston (PRWEB) January 09, 2013
SaveOnBrew.Com is the internet's only accurate resource for local beer prices. Consumers simply enter a zip code to access a listing of local beer prices at retail stores. They can surf by beer brand, beer type, container, or retailer. Mobile users may also access maps to the nearest beer retailers while on-the-go and receive "Beer Alerts" when their favorite brands go on sale.
The company got its start in 2010 and recently passed its millionth visitor. SaveOnBrew recently announced that they will begin publishing beer reviews in 2013 as a natural extension of the business.
"Our goal is to become a one-stop resource for beer lovers," explains SaveOnBrew's Mark Davidson. "We want users to come to our site, read our blogs suggesting new beers, organize beer tasting parties with their friends, and begin entering their own reviews on the site."
It's not hard finding a beer review on the internet. "We found a lot of those reviews to be really stuffy. It seemed like the idea was to exclude people, rather than include them," said Davidson. "Currently, we're partnered with BeerReviews.com and pull their reviews into the deals listed on SaveOnBrew. They wanted to do more."
"Our audience is distinctive from other review site audiences in that they are regular people who love beer," Davidson clarifies. "They are not beer snobs or professional beer cicerones. They're open-minded, adventurous beer enthusiasts. Some of them brew their own beer at home. Some drink Budweiser, Coors and Corona. Others are particular to obscure microbrews. Our goal is to provide these people with in-depth reviews they can relate to."
SaveOnBrew editors will rate beers based on sight, smell and taste and will describe the mouthfeel -- the hops, the malts, the yeasts -- and the distinguishing characteristics that make each beer unique. They'll also add some humor to describe 3 people they'd have a beer with and 3 thoughts that come to mind while drinking the brew.
"Reviews have a tendency to get stuffy," says Davidson. "We like to have fun."
In the near future, SaveOnBrew readers will be able to contribute their own reviews as well. Davidson describes the new review portal as being a great place for beer lovers to share their passion for beer, expand their horizons, discover new flavors, join a community of like-minded people, and learn how to taste beer like a pro.
For more information, visit SaveOnBrew.Com.
About SaveOnBrew.Com: Founded in 2010 to help thirsty beer drinkers across the United States find the lowest advertised prices for one of the world's most popular beverages.