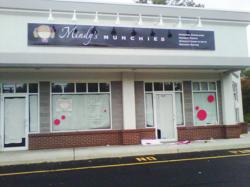 We plan to be in our new location in March 2013!
River Vale, New Jersey (PRWEB) January 03, 2013
Eleven years ago, Mindy Mosca, proprietor of Mindy's Munchies, in River Vale, NJ, took a hobby and built it into a dream. She is now expanding that dream to a new, larger retail store two doors down from her present location. "The business has grown so much that we need more production and shipping space to fulfill our chocolate orders."
CHOCOLATE MUNCHIES FILL DELIVERY TRUCKS
During the holiday season, the store is buzzing with activity and loyal customers enjoying holiday shopping. The signature chocolate covered pretzels, grahams and marshmallows are surrounded by chocolate filled gift baskets, platters and boxes. All of Mindy's Munchies are hand-dipped on premise and special orders are always welcome. This year, Mindy has added gifts, novelties and themed platters that can be filled to order with chocolate. Since the store ships nationally, a large majority of orders are placed online, especially those from corporate clients. Business has grown so much in the last five years that it now takes two FedEx trucks to pick up the orders at the end of each day.
CHOCOLATE WITH A SMILE
Mindy credits the reach of their website in driving marketing efforts, as they continue to expand their product line. However, many customers still call the store directly for one-on-one service when placing an order or inquiring about specialty orders. Because of the popularity of e-commerce over the last 10 years, customer service has deteriorated. However, Mindy's dedicated, knowledgeable and caring staff provides customers with the one-on-one service that they desire. "Our customers have come to rely on and value the service that we offer, since time is taken to personally see each chocolate order from creation to delivery," Mindy attests.
The new location will open in early spring 2013 with all of the same atmosphere that Mindy's loyal customers have come to love: the smiling pig-tailed girl on pink polka-dotted walls, outdoor and indoor seating, and candy and treats to satisfy any sweet craving. In addition, there will be a separate space for children's chocolate-dipping parties which have become a signature event for Bergen county residents. Most importantly, the production space will be doubled, allowing Mindy and her staff to more easily handle the overwhelming amount of orders, especially during holiday season.
CHOCOLATE IN THE FUTURE
As business grows, Mindy plans to open smaller satellite locations in the Bergen county area, with the new River Vale location as the flagship store and producion facility. Mindy intends to grow the chocolate-dipping business at her steady, consistent pace, keeping her focus on the customer and the product. "As I notice similar businesses popping up which mimic my product line, I know that I am doing something right. Imitation is the sincerest form of flattery!"
Mindy's Munchies is an example of small business at its best: a great idea, a solid business plan, inexhaustible dedication, tremendous focus, superior customer service and a loyal following. The logo's smiling pig-tailed girl invites us to watch this business as it moves into the future and continues to grow – one chocolate covered pretzel at a time.
Mindy's Munchies, a woman-owned business, is located at 215 Rivervale Road, River Vale, NJ 07675 / 201 664 1650. In addition to chocolate covered treats, strawberries, nuts, fudge, chocolate platters and assorted chocolate gifts, the store sells coffee, fresh cupcakes, and signature apparel. For more information contact Mindy Mosca. http://www.mindysmunchies.com