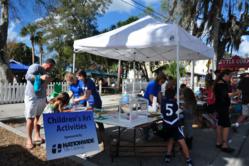 The children's art tent was manned by 50 volunteers over the two-day event, 11 of which came from NTC's employee base
Palm Harbor, FL (PRWEB) January 02, 2013
Earlier this month, the Greater Palm Harbor Chamber of Commerce held the 38th Annual Fine Arts and Crafts Harbor Art Festival, located in historic downtown Palm Harbor, FL. Nationwide Title Clearing, Inc. (NTC), a staunch Chamber supporter and leading service provider for the residential mortgage, sponsored the festival in addition to helping the Chamber attract over 2,000 people to the two-day event.
Nearly 100 artists competed for $6,250 in cash awards. A popular first this year was the "Battle of the Best Wings in Pinellas County." In addition to art, guests enjoyed food from local downtown restaurants, street food vendors, live music and children's activities.
The festival was founded by Louise and Bill Hoskins. A visual arts scholarship was awarded to a local high-school student in their honor, with a portion of the proceeds from the festival being contributed toward the scholarship.
Along with a donation from Apex Office Supply, NTC employees and other volunteers provided art materials for children who attended the festival. They were able to create over 400 holiday crafts with the kids.
With over 300 local employees, NTC has reinforced its community involvement by a more active role in their local Chamber. NTC Community Relations Director, Janice Rush, served as Publicity Chair for the event. "The children's art tent was manned by 50 volunteers over the two-day event, 11 of which came from NTC's employee base," commented Rush.
A voluntary organization of business and professional men and women, the Greater Palm Harbor Area Chamber of Commerce acts as a spokesman for the business and professional community, providing a variety of services for members and the community. NTC officials says that participation in organizations like the Chambers are valuable way for businesses to have positive a impact on the communities in which their employees serve.
About Nationwide Title Clearing, Inc.:
Based in Palm Harbor Florida and founded in 1991, Nationwide Title Clearing, Inc. (NTC) is a privately-owned leading service provider to the residential mortgage industry, serving mortgage lenders, servicers and investors, including eight of the top 10 residential mortgage servicers in the country. NTC earned the position of #2,730 on the 2012 Inc. 5000 list of fastest-growing private companies in America, ranking #36 in Tampa and #46 in the real estate industry. The company's land records and document experts are able to track and fulfill county document requirements for close to 3,600 recording jurisdictions nationwide. NTC specializes in providing land records research, lien release services, assignment services, final document tracking, document retrieval and other custom business solutions. For more information, visit the company's website at http://www.nwtc.com.
About Greater Palm Harbor Area Chamber of Commerce:
Located in the heart of historic downtown Palm Harbor, the Greater Palm Harbor Area Chamber of Commerce is active in developing the community economically. They host events to promote business and the community. The area's economic well-being is related directly to the caliber of work that is done by the Chamber, which is why the Chamber has a major impact on business, income and future growth of the area. For more information, visit http://www.palmharborcc.org/.