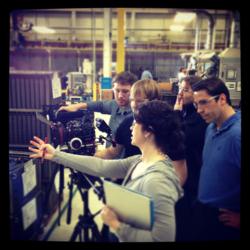 We have videographers available to shoot in HD format anywhere in the country. Our tea
(PRWEB) January 02, 2013
Cincinnati, Ohio, January 2, 2013—Black Tent Productions, LLC, an award-winning video production company based in Cincinnati, Ohio, today announced the launch of affordable, high quality commercial Impact Video™ production services. Impact Videos are brief videos of a customer praising the value of a product, service, company, or solution, and they are available in Testimonial and/or Case Study format.
Impact Videos provide marketing managers, brand managers, and product managers a unique and credible way to showcase the value of their products and/or services. A video of an end-user praising a product and/or services is one of the most credible and meaningful ways to validate a value proposition. In short, a video of a customer success story allows prospects to hear and see why end-users/customers believe in a particular solution. This personal connection drives immediate engagement with products and services—quickly building trust and credibility.
Testimonial Videos
Testimonials videos are brief videos (:30 – :60 seconds) of end-users/customers talking about their actual experiences with a company, product, or service. In short, a testimonial video offers a view of a company through the eyes of a satisfied customer.
Black Tent offers turnkey Testimonial video production and editing services.
"It can be uncomfortable for you to ask your customers to elaborate on the reasons why your solutions are so great; however, as a third party, our interviewers can ask solution-oriented questions that elicit the glowing responses you want/need. We have videographers available to shoot in HD format anywhere in the country," said Steve Kirschner, Creative Director of Black Tent Productions. "Our team will handle the entire project from start to finish, including project management, scheduling, release forms, interview questions, interviews, videography, lighting, and video editing. All we need from our clients to get started is the name of one of their satisfied customers."
Case Study Videos
Video Case Studies are short videos (1:30 – 3:00 minutes) that feature a customer and focus on the challenge(s) that were solved. Video case studies tell the complete story—from the initial customer challenge through the details of the solution(s), culminating with a customer testimonial. Black Tent offers turnkey Case Study video production and editing services. The Black Tent production team will capture the entire case study and customer experience, including interviews with your project contact and end users, operational footage of the product/solution in action, and the final customer testimonial. Black Tent has videographers available to shoot case studies in HD format anywhere in the country.
Impact Videos expand the number of web and mobile channels from which prospects and current customers can learn about products and solutions. In video format, these compelling testimonials and stories can be leveraged on corporate websites, e-mail marketing campaigns, PowerPoint presentations, blogs, online brochures, interactive press releases, and social media sites such as Facebook, YouTube, and Twitter.
About Black Tent Productions
Black Tent is an award-winning video production company based in Cincinnati, Ohio, offering creative development, video production, post-production, and photography services worldwide; including commercials, corporate videos, web videos, product videos, trade show videos, event videos, and training videos. Black Tent Productions is located at The Springer House Building, 128 Front Street, Suite A, Cincinnati, OH 45157. For more information, please contact Black Tent at (513) 421-1159, via email btvp (at) blacktentgroup (dot) com.