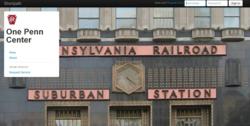 Shortpath has been easy and painless process to institute.
Philadelphia, PA (PRWEB) January 06, 2013
Shortpath®, service provided by Building Intelligence Inc., the leading provider of online business services to the commercial real estate industry, has partnered with Philadelphia's historic One Penn Center at Suburban Station to provide the best in technology services to facility staff and their tenants.
The 650,000 square-foot office building owned by Realex Capital Corporation and managed by One Penn Management LLC, was searching for an online solution to help document, respond and invoice tenant requests, generate maintenance reports, create better efficiency among facility engineers, and to assist with communicating emergency notifications to their tenants. The Shortpath Commercial Building Portal, covered by US Patent No. 7792962, provides the perfect suite of tools to help streamline these property management efforts while also providing a dashboard full of interactive resources that create a better experience for One Penn Center's tenants.
Using a unique web address created specifically for their building, onepenn.shortpath.com features a customized login screen with a hi-res photo of the building and a list of features available to tenants. While Shortpath provides One Penn Center's building management team with an easy way to manage and calculate rapid ROI from billable tenant requests, the Commercial Building Portal empowers tenants to submit requests directly to the facility's engineer team, or any other outside service provider or local business vendor the facility chooses to integrate with into their Shortpath service. Tenants can invite their co-workers to join and be a part of the action, so everyone is in the loop. Alerts on important building emergencies and events posted by One Penn Center's management team can be sent via email to every tenant who has an account through the system's message board feature.
Built by the Pennsylvania Railroad Company in 1930, the 20-story office building has been modernized over the past five years to the highest standards of safety, cleanliness, mechanical and technological efficiency and Shortpath's Building Portal speaks to that.
Shortpath® is a division of Building Intelligence Inc. Shortpath® is a friendly business utility designed to make it easy for office managers and all tenants to find the goods and services they need every day. For scheduling, ordering, messaging and selecting vendors, Shortpath® provides direct access to the building work order management system assuring that work order requests are placed directly into the buildings work order calendar for prompt action.All work orders are tracked in real time and you always know where you stand. Shortpath® also features a virtualmarketplace of goods and services.
Building Intelligence Inc. is a New York based security solutions provider. Our service model is based upon adaptability and flexibility; our staff and consultants possess a wealth of knowledge and experience enabling us to service a wide variety of needs in the most demanding environments.
In addition to Shortpath®, Building Intelligence provides a complete cloud-based security solution for managing vehicle security, visitor security and vendors (SV3path™). Every solution is customized to fit the needs of the buildings, the tenants and the security companies that service facilities. All of our systems provide streamlined operations, logistics and analysis and comprehensive security protocols that provide people, property and business with an ideal combination of services.
Visit online at http://www.buildingintelligence.com.