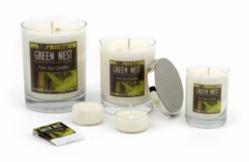 Did you know the average candle found in your local store contains up to 11 carcinogenic compounds?
Santa Monica, California (PRWEB) January 12, 2013
The average candle found in your local store can contain up to 11 carcinogenic compounds. And sometimes these 11 compounds can be toxic air contaminants.
As One Clean Planet strives to accomplish its mission of reducing the U.S. carbon footprint and provide products that create a cleaner environment, they have now introduced a new line of hand-poured, all natural soy candles. They claim their soy candles burn three times slower than the common petroleum based candles, have an incredible scent with no black soot and have no toxins or carcinogens.
"One Clean Plant is very proud of its new line of soy candles. The candles are not only a more healthy choice for consumers, but they also have a zero impact factor on the environment and are created from 100% sustainable materials," said Adam Radly, Founder and CEO of One Clean Planet. "Simply put, One Clean Planet's soy candles are a no-brainer for anyone who loves burning candles, anyone looking to go green and/or reduce the carbon footprint. They're just a great product with so many short-term and long-term benefits," said Mr. Radly.
One Clean Planet also stated that when petroleum based candles are mixed with synthetic fragrances, most of which are not meant for combustion, chemical fixatives and bleached cotton wicks, there are serious health hazards that are created.
"Health hazards are being created when people burn the common petroleum based candles and the general population is not even of aware of it. It's One Clean Planet's goal to educate consumers about the hazards of the common petroleum candles," said Mr. Radly.
About One Clean Planet
One Clean Planet has been established to help people maintain a healthy lifestyle and a healthy planet. With One Clean Planet you can get a professional home energy audit that will show you how you can lower your electricity costs and improve the air quality in your home, use proprietary energy management software to monitor energy use in your home and buy energy efficient and environmentally friendly products for your home and your family. With One Clean Planet you can save money and save the planet at the same time. Visit: http://www.OneCleanPlanet.com.