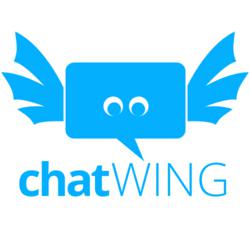 Houston, TX (PRWEB) January 05, 2013
Colors and images affect the way websites appeal to hundreds of people. This is based on different studies concerning the visual acuity of people, especially those who spend a lot of time surfing the Internet. Online marketers have also learned to stimulate the visual sense, creating logos and images that can attract people. The Chatwing Development Team has recognized this fact early on, allowing their developers to create a chat widget that gives emphasis to user modifications. Aside from superb communication, the Chatwing app allows users to customize it in many possible ways.
Web users can now upload a background image in the new version of the Chatwing chatbox. Any background image is possible, as long as it is uploaded in link form. Many users have attested that Chatwing's background image option contributed to high spikes of visibility over days and weeks. Color varieties are also emphasized in the widget. Users can mix and match border colors in order to find the right theme.
Aside from color combinations, the Chatwing team has added an MP3 option wherein users can upload a single song link. This will keep the chatroom enticing, especially if the uploaded music is interesting or timely. A Chatwing chat box also has various admin parameters so that users can feel the real sense of 'control.' These parameters include word filters, message deletion system, and login control.
The Chatwing Team will continue creating new improvements to the chat widget. According to the developers, the plan includes new colors, capability to add more MP3 songs, and overall platform speed and efficiency. There will also be more login options to grant wide-scale choices to Chatwing visitors.
About Chatwing.com
Chatwing.com specializes in the new field of website chat. Over years, the Chatwing team has introduced live chat widget for hundreds and thousands of blogs. The Chatwing application bridges people from many parts of the world, creating global synergy through the Internet. The shout box can be installed in just seconds, and it can be used for varying purposes such as leisure and Internet marketing. It also allows a user to customize the size, color, and name of the widget.