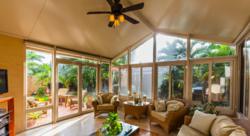 We think an emphasis on quality since our founding in 2005 has helped us grow.
MIAMI, FL (PRWEB) January 08, 2013
Venetian Builders, Inc., of Miami, Fla., today reported increases of more than 60 percent in the installation of aluminum sunrooms, patio covers and screened pool enclosures in 2012 over the previous year. Fabrication and installation of those products are the core business of the Miami-based company.
Venetian Builders is the leading installer of quality aluminum additions in South Florida, including Miami, Fort Lauderdale, West Palm Beach, Homestead, Miramar and surrounding communities.
Christopher Noe, Venetian president, said screen enclosures topped the increases, up by 67 percent. They were followed closely by sunroom installations, which increased 65 percent. Venetian patio cover installations rose by 62 percent.
Noe attributed the installation increases to an improving economy, word-of-mouth referrals, and expansion into new markets in South Florida. The increase in installations contributed to Venetian's doubling its work crews in 2012, Noe said. Commercial work also boosted sales, Noe said.
Focusing on the economy, Noe noted that Americans are moving less than at any time since the Census Bureau began to measure mobility, in the late 1940s. "People figure if they're staying, they might as well make their home more enjoyable, and adding living space does that," Noe said. Realtor.com has consistently named Miami-Fort Lauderdale as one of the top 10 recovering markets in the U.S., meaning people have more equity in their homes to tap for improvement loans, Noe added.
Noe said much of Venetian's growth is performance-generated.
"We think an emphasis on quality since our founding in 2005 has helped us grow," Noe said. "People see Venetian installations or ask friends about them, and we get more sales as a result."
Noe also credited Venetian's free, written estimates. "We've adopted a no-surprises estimate," he said. "Venetian estimates are so detailed that few unexpected problems result. Customers like getting what they envisioned when they ordered, whether it's a sunroom, patio cover or pool enclosure."
For more information, call Venetian Builders, 866-596-2427.