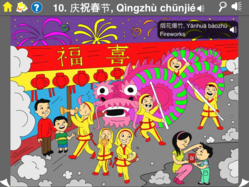 "We created a platform that allows the user to go through real life scenes interacting with thousands of Chinese vocabulary words in context."
-- Mike Sullivan Chief Language Officer
Boston, MA (PRWEB) January 02, 2013
Noyo, a Boston based educational software company has created a new vocabulary learning platform that allows users to quickly learn Chinese vocabulary. Noyo makes language learning apps that are fun for kids of all ages.
"We looked to improve upon the rote memorization of the flashcard model," says Mike Sullivan, Chief Learning Officer. "We created a platform that allows the user to go through real life scenes interacting with thousands of Chinese vocabulary words in context."
Available on the iPad, Kindle Fire and Android tablets, Noyo Chinese is a targeted vocabulary-building system for language learners in their first three years of Chinese study. Vocabulary items are integrated into colorful, interactive scenes, and each of nearly 2000 vocabulary items is paired with high-quality audio recorded by a native Mandarin speaker.
"By pairing bright, colorful, funny images with each vocabulary item, Noyo really cements vocab learning," says Ted Chan, CEO of Noyo. "Plus, we work with voice artists to get clear, engaging, child-friendly audio."
Noyo language learning apps are also available in French, Portuguese, Hebrew, Spanish and English as a second language. There is always a 50% volume discount for educators when they purchase Noyo apps in iTunes.
The Noyo Chinese vocab builder app inclues:
•Over 1800 words and phrases, each reinforced by supporting audio, visual representation, and written translation
•194 custom-illustrated scenes, packed with friendly characters and amusing scenarios
•Audio by a professional voice artist who is a native Chinese speaker
•Built-in assessment questions at the end of each unit
•Intuitive, user-friendly navigation system
•10 targeted units, featuring vocabulary related to: Food, Travel, Transportation, The City, House and Home, Seasons, Animals, School, Sports, Family
Noyo Chinese is now available for download on iTunes, and the Amazon App store for an introductory price of $7.99. There is always a 50% volume discount for educators in the iTunes store.
Noyo is headquartered in Boston, MA. It is dedicated to providing engaging, cost-effective, high-supplemental learning tools to language learners of all ages. More information can be found at http://www.noyo.com.