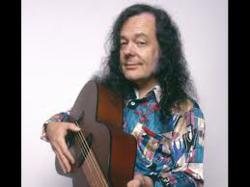 "Few guitarists transcend genre and style, but David Lindley has made a career of it. Widely acclaimed for his deft touch, fat tones, and nasty grooves, Lindley defies categorization." – Guitar Player Magazine
San Rafael, CA (PRWEB) January 07, 2013
David Lindley has worked extensively in many genres, performing with artists as varied as Curtis Mayfield, to Dolly Parton. He has long championed the concept of world music. David has mastered such a wide variety of instruments that Acoustic Guitar magazine referred to Lindley, not as a multi-instrumentalist, but instead as a "maxi-instrumentalist" in a cover story about his career to date in 2005. He will be performing an intimate solo performance for one night only in San Rafael on Saturday February 16th presented by Murphy Productions & Famous4 and in association with the Kanbar Center at the Osher Marin JCC.
The David Lindley electro-acoustic performance effortlessly combines American folk, blues, and bluegrass traditions with elements from African, Arabic, Asian, Celtic, Malagasy, and Turkish musical sources. Lindley incorporates a surprising array of stringed instruments including but not limited to Kona and Weissenborn Hawaiian lap steel guitar, Turkish saz and chumbus, Middle Eastern oud, and Irish bouzouki. The eye-poppingly clad "Mr. Dave's" uncanny vocal mimicry and demented sense of humor make his onstage banter a highlight of the show.
Advanced Ticketing: $35-Reserved table seats, $25 General Admission
Day of: $30 General Admission Only
Solo performance by eclectic multi-instrumentalist David Lindley
A Murphy Production Event
Doors Open: 7:00
Reserved Table seating available
General Admission- First Come First Served
Concessions include beer/wine/signature cocktail/snacks
Ample free parking
Tips:
Typically plenty of space, but reserve time for parking
More:
About Murphy Productions
Murphy Productions continues to reinvent musical entertainment in the Bay Area, dedicated to bringing the best listening and dance bands to Marin since 2003. Their passion for producing fabulous, fun, high quality music in unique intimate settings strikes a harmonious chord with artists and audiences alike.
Murphy's Productions bring Rock, Jam Bands and new cutting edge Blue Grass new Grass, touring acts, East Coast Swing, West Coast Swing and more. Designed as a place to meet old friends and new ones, there is a comfort in coming with others or on one's own. Murphy Production/famous4 shows are "all ages" so the next generation can be introduced to a new world of music and dance.
About the Kanbar Center for the Performing Arts
Epitomizing the essence of Marin, with a range of authentic cultural experiences enjoyed by many generations, the Osher Marin JCC offers award-winning facilities, including The Kanbar Center, which has established a strong and well respected reputation within the community as a Center for the Performing Arts in Marin County. Originally known as CenterStage, this performing arts department within the Osher Marin JCC has been presenting a stunning lineup of world-class performances from emerging and established performers annually since 1990. Venues include the grand Hoytt Theater, the intimate Kurland Lounge and outdoor venue, Swig Field. Performances offer concessions including cocktails for those 21+ We invite all to come early, get to know each other and celebrate with us.
Kanbar Center Upcoming Events
2/16- Murphy Productions & Famous 4 present: DAVID LINDLEY
2/23- THE HOUSE JACKS Music without instruments from a pioneering a capella rock band
3/2- The Colors of India featuring DHOLRHYTHMS OF NON-STOP BHANGRA – Performance & Dance Party.