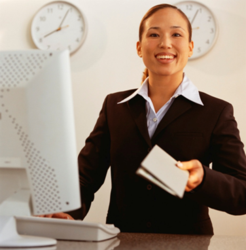 AU10TIX has been the forerunner of all channel ID authentication and record generation solutions, both for front-end and back office.
Nicosia, Cyprus (PRWEB) January 30, 2013
UK's Health Secretary Jeremy Hunt, has recently declared his vision for a "Paperless NHS by 2018", expecting cost-saving in "billions of pounds a year". According to PwC, automating paperwork processing offers a potential £4.4bn be put back into the NHS with better use of information and technology.
This announcement represents a step forward in translating the vision of paperless customer handling to reality to tangible value.
Recent IDC research indicated that optimizing customer-facing document-driven business processes "would increase revenue — on average by 10.1%". According to AU10TIX, if that is the case then the potential for increasing revenue and minimizing losses and overhead may be even higher! The reason: The authentication, record keeping and usage of customer IDs for keying-in and verifying customer data are still done primarily manually. Automating ID authentication and record generation translates to faster, securer, less error-prone and resource saving operation. Implications are higher customer acquisition chances, higher customer traffic handling capacity, better fraud prevention, tremendous cost saving in work, material and logistics, more effective CRM and risk management and more.
A myth-busting white-paper published recently by IDC and sponsored by Ricoh suggests that improving document-driven business processes applies not only to reducing costs but also to winning more business and increasing revenue.
IDC's comprehensive study titled "Blind Spot: The Role of Document-Driven Business Processes in Driving Top-Line Growth"* has been carried out among 1,516 document-driven business process owners and information workers around the world.
The study's main findings include:

Over 83% of respondents indicated that optimizing customer-facing document-driven business processes would increase revenue — on average by 10.1%. This could be achieved by improving customer communications, streamlining the sales and customer onboarding process, and improving customer support.
More than half are dissatisfied with the document-driven processes in six of the seven industries studied: business services (64.9%), government (63.9%), healthcare (63.1%), education (62.3%), insurance (54.3%), and telecommunications (51.8%).
Among consumers who are dissatisfied with companies' document processes, 60.1% would switch to another provider and 56.8% would likely tell others about their dissatisfaction.
Of course, the term "customer-facing document-driven customer processes" refers to a variety of document types and processes involved in customer screening and processing. However, one type of on-boarding document – the one that is mandated across all regulated markets and pre-conditions even the on-boarding itself – may have an even greater impact on the bottom line. That document is the customer's ID document.
ID documents are a blind spot in conventional automated paper processing solutions. Reason is that these are not just documents that need be photocopied and extracted. ID documents are legal, forgery-protected facilities that may contain dozens of possible security features and data-sets. These features and all data-sets that are not overt (most are encrypted) cannot be read or authenticated reliably without proper technology. What's more, the data they contain is indeed the legally abiding correct customer data.
In reality, despite the fact that ID documents are becoming ever more laden with security features and electronic chips – the production and obtaining of convincing-to-the-eye forgeries is ever easier. However, the authentication of ID documents is still carried out primarily manually – a slow, inconsistent and often simply unreliable process. He checking and keying in of customer data against declarations and other records is notoriously slow and error prone. And they recording and management in paper form (where still practiced) is, again – slow, costly, inefficient.
The challenge of authenticating and processing customer ID documents has not gone un-noticed by industry specialists. Among them, AU10TIX has been the forerunner of all channel ID authentication and record generation solutions. The company's FDI front-end solution and BOS online solution enable service providers to automate forgery detection, content extraction and cross-matching and generation of workable digital records of all common types of ID documents.
This translates not only to operating efficiency and cost-saving – i.e. enabling of the suggested average 10.1% cost saving potential. The AU10TIX ID authentication and processing solutions also add another layer of potential value by improving fraud protection and enabling effective KYC compliance! No "paperless office" solution is complete without an ID document authentication and processing capability.
For more information, visit http://www.au10tix.com
About AU10TIX
AU10TIX Limited, a fully owned subsidiary of ICTS International N.V, deals with the authentication and digitization of identifying documents including Passports, identity cards, driving licenses and other complementary identifying documents. The company specializes in implementing hardware & software based applications used for scanning, identifying, content retrieval, authentication and validation of identifying documents. AU10TIX is a pioneer of all-channel (front-end and online) ID authentication and processing solutions. The company's products drastically reduce identifying document-based fraud, reducing the costs associated with client processing and enabling effective regulatory compliance, while making the sales and support operations speedier and considerably more efficient.
For more information, visit http://www.au10tix.com
About ICTS International N.V.
ICTS specializes in the development and implementation of innovative security concepts and solutions designed to meet the needs of a variety of industries, mainly aviation transportation, border control and sensitive facilities. ICTS International benefits from over two decades of expertise and international operational experience in transportation security, with a particular emphasis on high-risk environments, passenger processing transactions and the integration of security services to provide a comprehensive security solution. It also offers a wide variety of customized training programs, tailored procedures and a wide range of security consulting services. The company has developed and implemented unique technological solutions, based on its comprehensive approach to security, designed to enhance the level of security while accelerating the security check process.
For more information, visit http://www.icts-int.com
This press release contains "forward-looking statements" within the meaning of the Private Securities Litigation Reform Act of 1995, regarding the Company's business strategy and future plans of operations. Forward-looking statements involve known and unknown risks and uncertainties, both general and specific to the matters discussed in this press release. These and other important factors, including those mentioned in various Securities and Exchange Commission filings made periodically by the Company, may cause the Company's actual results and performance to differ materially from the future results and performance expressed in or implied by such forward-looking statements. The forward-looking statements contained in this press release speak only as of the date hereof and the Company expressly disclaims any obligation to provide public updates, revisions or amendments to any forward-looking statements made herein to reflect changes in the Company's expectations or future events.
Contact:
AU10TIX
Ofer Friedman, Director of Marketing
Email: ofer.friedman (at) au10tix (dot) com
Tel.: +972-50-4 71 71 50
ICTS International NV
Alon Raich + 00-972-974-47770
mail (at) ictsinternational (dot) com