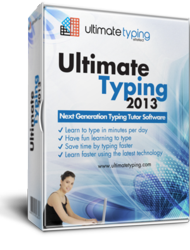 According to the reviewer, this tool ensures that the user learns to touch type correctly and efficiently.
New York City, NY (PRWEB) January 03, 2013
Ultimate Typing™ has been recently reviewed by Squidoo software reviewer Noline. The user received the software in order to test out first hand the software's claims to improve typing speed and accuracy. In a detailed review she explains the advantages and the setbacks of the software.
The technologies of Ultimate Typing™ were particularly praised by the reviewer, who found herself rather astonished by the quality of the video tutorial feature that guides the learner step-by-step of the learning process. According to the reviewer, this tool ensures that the user learns to touch type correctly and efficiently.
The reviewer commented that most people think they touch type correctly when in reality their typing habits have problems, many of them relating to health risks. She explains how in retrospect she realized her sitting posture and wrist position made it harder for her to type as fast as she could. Typing faster depends greatly on ergonomics; the fastest typists know and use the most efficient typing posture for maximum productivity and minimum health hazards. The reviewer claimed that the instructional videos allowed her to improve her posture and typing simply by sitting appropriately and by avoiding looking at her keyboard, among other things.
Apart from saving her from a probable wrist injury, her improved posture and typing allowed her to be more accurate and fast in her typing, which inevitably resulted in her being more productive in terms of time and work volume.
The reviewer doesn't focus solely on the software's positive attributes. In fact she makes a point of mentioning that the download file used to install Ultimate Typing is rather bulky, so it can take quite some time to download. She also mentions that even though multiple users can benefit from the software, the license is for a single computer only, and so all users need to practice using just one computer.
The reviewer's overall appraisal of Ultimate Typing™ was favorable, and Noline especially approved of the performance tracking tool and its flexibility , pointing out that it is something that allows users to practice by focusing only those areas that need the most improvement.
For more information on how Ultimate Typing™ can improve your typing speed and accuracy please visit the official website http://www.ultimatetyping.com.
About Ultimate Typing™
Ultimate Typing™ is an advanced typing tutor software that offers incomparably sophisticated typing strategies.
Ultimate Typing™ is based on the latest research and scientific developments about efficient typing. With as little as 7 minutes a day, aspiring fast typists can substantially improve their typing accuracy and speed.
With its user-friendly and expert-designed activities all users can improve their typing. Accurate typing is possible thanks to Ultimate Typing™. Plus, eReflect provides a money-back guarantee that cannot be matched.