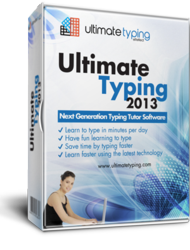 ...it can substantially cut down typing time once the user perfects their typing skills.
New York City, NY (PRWEB) January 04, 2013
When eReflect recently released its new software system, they announced that according to their research use of the system could save any person minutes or even hours each day by improving typing skills. To test this claim, Ultimate Typing™ has been reviewed by the Online Bachelors Degree Success website, and the student who reviewed the software concluded that it has an amazing ability to improve anyone's typing skills in just about fifteen days. The reviewer focused on how well structured the software training is and how it can substantially cut down typing time once the user perfects their typing skills.
Talking from personal experience, the reviewer confesses how his typing skills were self-invented rather than professionally taught. This resulted in poor typing skills that made his life harder; whether taking lecture notes, or typing business reports, or even simply talking with friends online, these otherwise trivial activities were taking up too much time and that was making him frustrated. Emphasizing how computers are becoming an integral part of our daily lives, the reviewer stresses that accurate and fast typing are essential skills everyone can benefit from in the Digital Era. He reports that the software has actually improved both his typing speed and precision.
As the reviewer noted, Ultimate Typing™ has been carefully designed to help beginners with poor or no typing skills to quickly improve those skills, while still providing challenging exercises that help advanced typists increase their speed and accuracy. Ultimate Typing™ has strategically organized practice exercises which, as the reviewer attests, leave no room for learning typing improperly. The difficulty of typing lessons increases incrementally to ensure that the learner masters elementary typing skills before moving onto more advanced ones.
As the reviewer comments, by learning how to type correctly and efficiently, learners are able to notice great improvement in their typing speed and accuracy, in just about two weeks. Keyboarding training, as the review suggests, is accomplished through expert-designed exercises and drills. This ensures high success levels and great typing accuracy.
The review also mentions that as soon as a user learns the basic principles of typing, then the combination of software-assisted practice and the user's own daily typing responsibilities combine in a way that will inevitably further improve the user's typing skills. The reviewer concludes by saying that Ultimate Typing™ does more than improve typing skills – it's an excellent way to help people save valuable time.
For more information on how Ultimate Typing™ can improve your typing speed and accuracy, please visit the official website http://www.ultimatetyping.com [http://www.ultimatetyping.com __title__ ].
About Ultimate Typing™
Ultimate Typing™, is an advanced typing tutor software that offers incomparably sophisticated typing strategies.
Ultimate Typing™ is based on the latest research and scientific developments about efficient typing. With as little as 7 minutes a day, aspiring fast typists can substantially improve their typing accuracy and speed.
With its user-friendly and expert-designed activities all users can improve their typing. Accurate typing is possible thanks to Ultimate Typing™. Plus, eReflect provides a money-back guarantee that cannot be matched.