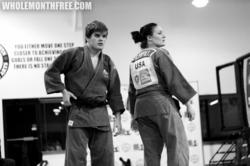 "The moves demonstrated by Nick I was able to instantly add to my game..."

- Timmy Spriggs
(PRWEB) January 18, 2013
2012 Olympic Judo competitor Nick Delpopolo and Olympic qualifier Carrie Chandler traveled to Crazy 88 Brazilian Jiu-Jitsu to help the team improve their takedowns for the upcoming 2013 Jiu-Jitsu season.
Having studied the art for over a decade, Nick Delpopolo is a well accomplished Judoka. Since 2008, Delpopolo has steadily climbed the U.S. judo ladder by earning the rank of No. 1 in his 73-kg weight class and a No. 16 ranking worldwide. His equally accomplished judo partner in crime, Carrie Chandler is also well known on the Judo circuit, being a 5x National Champion and Pan American Champion.
This is not the first time that Nick Delpopolo and Carrie Chandler have paid a visit to the school; they have hosted many seminars previously. The aspect that makes this trip special is the fact that they are not only throwing one seminar, they are hosting a workshop over the span of four days to help the competitors improve on their game on their feet. Head instructor Julius Park stated, "By attending the bootcamp, the individuals will learn a system of gripping and throwing taught by two Olympic qualifiers. Just by being present and drilling two or three moves from the bootcamp they will possess a huge edge over the competition that has never trained in Judo."
The structure taught by Nick and Carrie can be accredited to the success of medal chasers Timmy Springs and Tye Murphy. Both Timmy and Tye have become feared in the Jiu-Jitsu world because of the takedown system taught by the two Judo Olympians. When asked about the techniques taught to him by the two Olympians, Timmy Springs could do nothing but rave about the results that he has seen from what he had previously learned. He stated, "The moves demonstrated by Nick I was able to instantly add to my game. It virtually took me from being a pretty good blue belt to one of the best purple belts in the world!"
Crazy 88 Brazilian Jiu-Jitsu is consistently hosting workshops and seminars instructed by elite level athletes to work with the competitors on their particular style. If interested in training Brazilian Jiu-Jitsu, Muay Thai and or Mixed Martial Arts visit http://www.BaltimoreMixedMartialArts.com. For more updates on Olympic qualifiers you can follow them on twitter @Matrat57kg and @NickforGold.