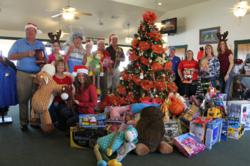 We are very grateful for all who participated and donated to this great cause.
Canton,TX (PRWEB) January 03, 2013
Twin Lakes Golf Course of Canton, TX hosted their 3rd Annual Golf Tournament and Toy Drive on Dec. 2, 2012 benefiting Van Zandt County Sheriff's Toy Drive for area children. They topped out at 116 golfers, and over 260 toys were donated. One golfer carrying an armful of pink toys, babies and Barbie dolls, explained that with all boys in the family he was excited for the opportunity to shop for a girl.
Following play the golfers enjoyed a chili dinner and raffle prizes while the tournament was scored. Over $7,000 worth of raffle prizes including a football helmet signed by Tony Romo, 4 Titleist Golf Bags, Clubs and Balls, Taylor Made Clubs, Oakley Sunglasses, Under Armour Shirts, and many prizes donated from area sponsors were given away. Prize money from the entry fees totaling $6,000 was awarded to three flights and three places in each flight.
Later in the day, the Van Zandt County Sheriff's office came out to pick up the toys to deliver to area children. "We are very grateful for all who participated and all who donated to this great cause," says Carri Dekkers of Twin Lakes Golf Course. A full listing of sponsors can be found on the Twin Lakes Golf Course blog.
The next large Twin Lakes Golf Course fundraiser will be a golf tournament and food drive in the Summer of 2013.
Twin Lakes Golf Course was designed by Robert Hay and established in 1998 by Deon Dekkers. The course is surrounded Twin Lakes Nursery, a 900 acre tree farm. TexasOutside.com ranked Twin Lakes Golf Course in Canton as one of the top 25 in the state, and The Dallas Morning News listed it among its favorite mid-priced courses in Texas. There are 51 bunkers and six total water carries that are made easy to navigate with the ProLink onboard GPS system in the golf carts. Contact Twin Lakes Golf Course at 214-837-3381 or go to their website http://www.twinlakesgolfcourse.com for more information about golf fundraisers.