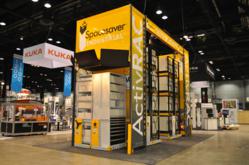 Companies have started to embrace ActivRAC as a proven and viable solution, and we are excited to showcase that at ProMat again this year.
Fort Atkinson, Wisconsin (PRWEB) January 15, 2013
Spacesaver® Industrial® will showcase ActivRAC® 16 and ActivRAC® 7 Mobilized Storage Systems, and secure rotary storage units in their 40' X 40' booth (number 2036) during ProMat 2013, which runs from January 21 - 24, 2013, at McCormick Place in Chicago, Ill. ActivRAC industrial-grade carriage and rail systems move your existing or new racking and shelving side-to-side, eliminating aisles and maximizing square footage. It's a simple, cost-effective way to add capacity without expanding.
"Spacesaver Industrial demonstrated the ActivRAC 16 and ActivRAC 7 mobilized storage systems at ProMat in 2011 and Modex in 2012 with great success," says David Potter, Industrial Vertical Market Manager for Spacesaver Corporation. "Companies have started to embrace ActivRAC as a proven and viable solution, and we are excited to showcase that at ProMat again this year."
The Spacesaver Industrial line of mobilized storage systems includes the ActivRAC 7 and patent-pending ActivRAC 16 and ActivRAC 30 models. The more recently introduced ActivRAC 7 system is rated to handle a weight capacity of up to 7,000 lbs. of load per rack or shelving section.
"We have found that ActivRAC 7 is an ideal solution for tool rooms, maintenance and supply areas due to the size, affordability and ease of installation," says Jim Muth, Vice President of Business and Industrial Market Development.
In the tools and maintenance area at Aveva Drug Delivery Systems, ActivRAC was used as a solution to consolidate individual departments into one space and create visibility to over 10,000 parts in order to quickly service the needs of each department.
The ActivRAC 16 and ActivRAC 30 systems are rated to handle weight capacities of up to 16,000 lbs. and 30,000 lbs. of load per rack or shelving section, respectively.
When Toyota combined its Tacoma and Tundra operations at the Toyota Motor Manufacturing, Texas, Inc. (TMMX) plant in San Antonio, Texas, rather than take on a facility expansion, TMMX put the ActivRAC 16 system to work and gained 54 percent more storage capacity in the same footprint. There's also room for additional storage, even though the plant is humming at peak capacity and producing 200,000 vehicles per year as planned.
The ActivRAC mobilized storage system can totally replace existing stationary systems, or convert existing racks and shelving into a mobilized storage system via the industrial-grade carriages and rails — providing quick, easy access to stored materials. When compared with a standard static system in the same footprint, ActivRAC systems can give users up to 100 percent more capacity within that same footprint. Or, users can maintain current storage levels, but occupy up to 50 percent less floor space.
"People often cannot visualize their space without any aisles," says Matthew Servant, Product Manager for Spacesaver Corporation, "so we are trying to alleviate this issue by offering a free planning guide to anyone that stops by our booth this year at ProMat."
One of the key features of ActivRAC is Spacesaver Industrial's mobile technology, which allows the carriages to travel over flat but un-level floors. Working within the industry's standard flooring specifications, the ActivRAC mobilized storage system can easily be surface- or flush-mounted on most existing floors, making installation easy with minimal interruption to operations. The systems are easily re-configurable, scalable and can be re-located offering maximum flexibility to adjust to operational needs.
All ActivRAC mobilized storage systems are sold through an independent network of carefully selected and highly trained distributors experienced in manufacturing processes, material handling and storage. Local distributors work in tandem with end-users, architects and local building authorities to properly evaluate each application and recommend the most appropriate solution complete with cost justifications.
About Spacesaver Industrial
Spacesaver Industrial is a division of Spacesaver Corporation, which has been a leading provider of high-density compact mobile storage systems and an array of other storage solutions and accessories since 1972. The company has successfully installed more than 250,000 storage systems for leading companies and institutions across North America, including an untold number of industrial applications. Spacesaver Corporation, a division of KI, Green Bay, Wis., employs nearly 500 at its manufacturing facility in Fort Atkinson, Wis. The manufacturing plant, which has earned ISO 9001:2008, encompasses 358,000 square feet. From the manufacturing floor to the front office, the Spacesaver Industrial division has extensive experience in designing and manufacturing solutions exclusively for use in a diverse range of manufacturing operations, as well as companies focused in the warehousing, distribution, and logistics industries.