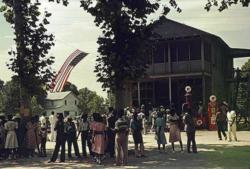 Financial challenges seem to hit the hardest when the US economy is beset with an economic crisis. Can we afford even more austerity, more debts and more sacrifices in 2013?
New York City, New York (PRWEB) January 30, 2013
With various financial challenges that have historically hounded the average African-American household, coupled with the US fiscal cliff measures that set the stage for drastic economic and social changes in 2013, some very important questions loom over the heads of many African-Americans:
What does 2013 hold for them? If today's hard work barely gets them through, what more do they need to do in 2013? Financial challenges seem to hit the hardest when the US economy is beset with an economic crisis. Can they afford even more austerity, more debts and more sacrifices in 2013?
While nobody can offer an all-encompassing answer to these perplexing questions, the next best thing is to prepare by keeping in tune to what lies ahead. This is exactly what Financesonline.com came up with in its recently published article, a prudent forecast on the ten most pressing financial hurdles that African-Americans will face in 2013.
The article published by FinancesOnline.com draws from published data and analyses from major reports tackling perennial financial challenges of African-American households such as the African-American Financial Experience by Prudential Group, Financial Obstacles Faced by African American Entrepreneurs: An Insight into a Developing Area of the U.S. Economy by the Tennessee State University's The Journal of Developing Areas and African American Income by Blackdemographics.com, among others, and from recent government releases on key economic and household indicators such as the 2011 Income, Poverty, and Health Insurance Coverage by the US Census, and employment situation data from the US Department of Labor.
With judicious care, the FinanceOnline.com article combines discerning views and astute scrutiny from respected voices from both American racial groups and their white counterparts, particularly on the sharp effects of modifications on education, employment, health and tax programs on the poorest of African-American households.
One such voice quoted in the FinancesOnline.com article is Yvonne Scruggs-Leftwich of the National Coalition for Black Civic Participation. Speaking for the Black Women's Roundtable, she said, "Even in the more comfortable case of established, upper-middle income households where a 15-year-old is still in secondary school, a 19-year-old attends a public university, and the household income is $120,000 annually, the tax increase if Congress fails to act would be a $4,500 annually because tax deductions will disappear."
The result of FinanceOnline.com work is an article being an insightful outlook on the most pressing financial hurdles that African-Americans will battle in 2013 that will prompt readers to think how can they better prepare themselves and their families to meet these challenges?
The items that make it on the list of things discussed in the FinancesOnline.com article have profound impacts on cherished financial goals of African-Americans: adequate personal income with increasing savings for the present and financial security in old age. For instance, the author of the article asks why are financial dole-outs to dependent family members and relatives more pronounced in African-American communities, and at what price does this "family value" come with? Will this ever change in 2013, what with pressures to earn more and save more to fill in the support gaps once provided by social support programs? What practices and norms to keep sacred, and what to sacrifice in the name of the almighty dollar?
The ten tight and tricky financial challenges that will test African-American resilience in 2013 by Financesonline.com is aimed at helping guide money decisions and actions in these trying times and to encourage those battling money woes to remain focused on their financial goals and came out of these challenges victorious long after 2013 is over. The article also provides a mix of practical and profound suggested solutions and compelling calls to action for the African-American as an individual and as a dynamic community.
More details about the Ten Tight and Tricky Financial Challenges That Will Test African American Resilience in 2013 can be found at Financesonline.com.