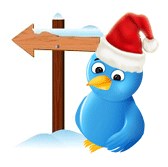 Make sure you suited up your business for 2013!
Ukraine, Kharkov (PRWEB) January 03, 2013
New challenges have arisen in the international and local markets. Thus, almost all companies need robust software to stay at the competitive level. 2013 will be profitable for those who embed the latest developments in their business process. The Ukrainian IT market opens up a wide range of new opportunities. QArea discovered the way on how to expand the Ukrainian IT market and self-promote on Twitter.
For this purpose QArea organized the "#ChristmasTweet" in Ukraine, Kharkov. Clients can get a 10% discount for period from December 27, 2012 to January 31, 2013 and use it from December 27, 2012 to June 30, 2013. The main goal of this event is to get the users' tweets in exchange for 10% discount that is applied to the all available QArea services, such as mobile, web and desktop application development/testing.
What is the main idea of the "#ChristmasTweet" offer?
As the market of software development is growing with a rapid speed, people are seeking any opportunity to get the same product for a lower price. On the one hand, the main idea is to provide new clients with a 10% discount for software development/testing services in order to engage them in the Ukrainian IT market. This offer is valid only for those who have never used services that are provided by the Ukrainian software engineers or had any contracts with the Ukrainian software outsourcing companies. On the other hand, QArea aims to self-promote on Twitter by getting users' tweets in exchange for a 10% discount for all their services.
Who can participate in the "#ChristmasTweet" event?
QArea offers their new clients software development/testing services for prices that are lower than regular. So, whether their customers are individuals or enterprises who need software services, they can get it right now with the discount as the gift for winter holidays. The next industries can gain from this offer:

travel & leisure,
banking & finance,
games & entertainment,
security & navigation,
social networking & Internet,
sports,
and any other consumers who can implement software products in their business.
About the Company
QArea is a software outsourcing company with the team that consists of 200 software engineers who provide services in the different IT areas. QArea delivers mobile, web and desktop application development/testing services for both enterprises and individuals since 2001. Outsourcing services are delivered over the different countries and economics. QArea offers three business models to their customers: Dedicated Team, Time & Material and Fixed Costs in order to satisfy any kinds of the particular needs. Their team of high-skilled developers and testers are guided by creative ideas in their work. The cutting edge standards have powered hundreds of successful projects. QArea carries out the events in the social networks in order to provide the assistance to their clients staying in touch 24/7 and to make the collaboration with the partners as efficient as it possible.