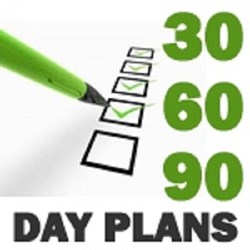 A 30-60-90-day plan will put the hiring manager on the job seeker's team
GUNTER, Texas (PRWEB) January 14, 2013
In this competitive job market it's possible for a job seeker to get multiple job offers by making the hiring manager see him as already hired, according to renowned career coach, Peggy McKee. The way to make this happen is to use what's called a 30-60-90-day plan.
To learn more about this plan, which is completely adaptable to any industry, visit http://careerconfidential.com/30-60-90-day-plan-how-to-create-and-use-it-to-knock-their-socks-off-in-the-job-interview/ .
The 30-60-90-day plan demonstrates a job seeker's value to an employer by highlighting intangible elements and qualities every hiring manager wants in a new hire. These intangible elements include knowledge, hunger for the job (but not desperation), and drive. It makes a candidate stand out from the competition by selling him for the job.
"A 30-60-90-day plan will put the hiring manager on the job seeker's team," said McKee. "The hiring manager is looking for the candidate to prove four things: that she understands the job, is able to complete the job, will do the job, and that she poses no risk to his continued employment. The 30-60-90-Day Plan proves all that for you."
The plan draws attention to the benefits of hiring a candidate and makes the interview process much easier and more successful for both the hiring manager and the candidate.
Job search education videos from Career Confidential are also available on YouTube, like this one about 30-60-90-day plans: http://www.youtube.com/watch?v=WckHqINS-qQ&list=UUUpIGr7JRwp0h7oieYS967w&index=6&feature=plcp.
# # #
Career Confidential is a rapidly growing job search training company based in Texas that specializes in providing job seekers with powerful and customizable tools and techniques to get the jobs they want fast.
Since nationally-recognized recruiting and job search experts Peggy McKee (CEO) and Carl Chapman (CTO) founded Career Confidential in 2009, has grown from one product, the 30/60/90-Day Business Plan, to more than 30 products to guide candidates through every step of the job search.
If you'd like more information about this topic, or to schedule a coaching session, please call Peggy McKee toll-free at 1-800-691-2562 or e-mail Peggy at Peggy(at)CareerConfidential(dot)com.