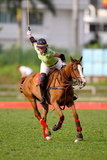 Kylie epitomizes all of the qualities that Garrison Forest strives to instill in its graduates
OWINGS MILLS, MD (PRWEB) January 09, 2013
Kylie Sheehan, one of the top collegiate polo players in the country and a Garrison Forest alumna, is the only female player selected for the prestigious Team USPA for 2013 and the inaugural U.S. collegiate team. The latter will play a match against the best of Great Britain's collegiate players just prior to historic Townsend Cup, a polo match between Great Britain and the United States.
Selected by the United States Polo Association (USPA) for Team USPA from a national pool of talented players, Kylie Sheehan, Garrison Forest School (GFS) Class of 2009, is one of eight players on the team. She was an all-star polo player at GFS and co-captain of its 2009 national championship team and is a starter on the University of Virginia's Women's Polo team. Kylie lives in Owings Mills, MD.
Since Team USPA's inception four years ago, only 45 players have been chosen. Only six of the former and current team members are female and 50% are GFS alumnae: Kylie Sheehan; Cristina Fernandez '05, who played at University of Virginia; and Meghan Shader '08, who played for University of Kentucky.
The Team USPA program provides opportunities, home and abroad, for the Team USPA members to play in higher levels of competition to which they otherwise would not have access. They also participate in a rigorous training program to become certified polo umpires.
On January 12, 2013 at the Empire Polo Club in Indio, CA, Kylie will play in the first-ever collegiate-level opening game to the Townsend Cup. To field the inaugural U.S. collegiate team, collegiate players had to apply. Kylie was selected from among 30 applicants and was selected based on sportsmanship, horsemanship and playing ability.
In 2009, as a GFS senior, Kylie won the Polo Training Foundation's Interscholastic Player of the Year. She has been a starter at UVA all four years, winning the Women's National Intercollegiate championship with UVA in May 2012 and garnering numerous All-Star awards. Kylie has served as team captain for three years and president of the UVA Polo club this year.
"Kylie epitomizes all of the qualities that Garrison Forest strives to instill in its graduates," says GFS polo coach Cindy Halle. "She is a wonderful young lady who works hard in her chosen sport, academics and community service and is one of the most friendly, sincere and humble young women that you will ever meet. They are going to love having her on Team USPA and on the Townsend Cup's collegiate team. Kylie will utilize this opportunity to the fullest and will be a great representative of Garrison Forest School."
This May, Kylie will graduate from University of Virginia with a B.A. in Foreign Affairs with a concentration in Latin America and the Middle East. At GFS, Kylie was very involved in community service. She mentored middle school-aged girls from Baltimore City Public Schools for two summers in the Garrison Forest program, which as part of the Middle Grades Partnership (MGP program), a collaboration among teams of Baltimore's independent and public schools initiated by the Baltimore Community Foundation. At UVA, she has continued her passion for tutoring underserved youth as a member of the Tri Delta sorority.
This past summer, she traveled to Southeast Asia to play in a women's polo tournament, the Royal Malaysian Polo Association Ladies Championships. She also had a summer 2012 internship as a marketing director and event planner with Athletes Serving Athletes, a nonprofit organization enabling disabled athletes to compete in triathlon and running races.