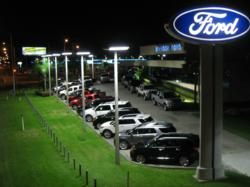 Tampa, FL (PRWEB) January 30, 2013
Tampa, FL automobile dealer Brandon Ford recently completed a project to upgrade their existing lighting systems to reduce electricity costs and improve the lighting quality. At the same time their reduced electricity usage has resulted in less greenhouse gas emissions associated with electricity production.
Southpoint Solutions worked with Brandon Ford to develop and implement this project utilizing the patented technology of Orion Energy Systems. Existing outdoor lighting, which consisted of 175 inefficient high-intensity discharge (HID) light fixtures, was replaced with Orion's high-intensity fluorescent (HIF) technology.
As a result of the project, Brandon Ford expects to cut its light-related electricity usage, and the associated costs, by almost 70 percent. An added benefit is that lower electricity usage means less fossil fuel emissions associated with electricity production. By completing this project, Brandon Ford has indirectly reduced the amount of air pollution by 362 tons of carbon dioxide which has an equivalent impact of saving 44,926 gallons of gasoline annually or planting 100 acres of trees.
Donnie Miller had been thinking about a lighting retrofit project at Brandon Ford for several years. "I must have sat down with a dozen vendors, but frankly nobody supported their claims with good, solid metrics, facts and guarantees like Southpoint Solutions did," said Miller, Fixed Operations Director at Brandon Ford. Completed in August, the project is exceeding expectations. "These lights look better," Miller said. "The colors are more accurately rendered now than they were, no doubt about that, and we're showing savings of about $5,000 a month, which is even better than what was projected." Regarding the Environmental Stewardship Award, Miller said, "I think it's certainly a source of pride for the store. Any time you can put up (a plaque) showing you're a good steward of the environment, that's important. And as time goes on, I think those kinds of actions are going to be more and more important."
Brandon Ford recently received national recognition for receiving Ford's President's Award for the 10th consecutive year. The President's Award recognizes Dealers who achieve the highest levels of customer satisfaction in both sales and service. Winners of the award are organizations with a customer-focused mentality, a commitment to sound processes, and, most important, outstanding team members. For more information, visit http://www.brandonford.com.
Southpoint Solutions, LLC. is an energy services company that designs and deploys energy management systems consisting primarily of high-performance, energy-efficient lighting platforms, intelligent wireless control systems and direct renewable solar technology for commercial and industrial customers. For more information, visit http://www.SouthpointSolutions.com.