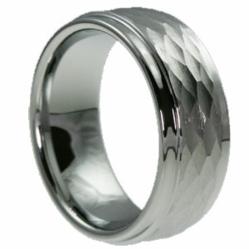 Soon to be couples are drawn to the stunning white metal appearance of platinum which white tungsten has
(PRWEB) January 14, 2013
http://www.ForeverMetals.com, the leading retailer of wedding bands online, is proud to inform that they now have a complete line of white tungsten wedding rings both for men and women. Even if tungsten rings are relatively renowned and make up roughly one third of all men's wedding rings traded in US alone, there are a few inherent issues regarding this superb metal. This metal is inclined to be a little grayer in color, which is far from silver, platinum and palladium when it comes to appearance. There are many clients who wish their rings made from tungsten carbide could have a similar color as platinum and white gold. Now with advances in technology this has been made possible. Soon to be couples are drawn to the stunning white metal appearance of platinum which white tungsten has, according to Forever Metals.
A lot of couples yearn for their engagement ring or wedding band to seem like white gold or platinum. With white tungsten, you can have the lavish appearance of platinum, at a portion of the cost. Unlike the usual way of plating, this extraordinary procedure will not wear down. White Tungsten is an ideal choice for couples seeking the traditional look of precious metals while having the durability of tungsten carbide.
Forever Metals offers one of the largest collections of tungsten carbide rings. At Forever Metals, they strive to give the best service for their customer to make their buying experience informative and hassle free. Along with offering the best products and services, Forever Metals also provides the affordable prices.