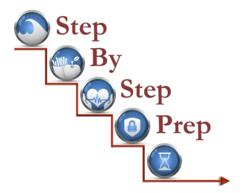 I am called to this project. If I can help one family, I consider my mission accomplished.
Houston, Texas (PRWEB) January 08, 2013
More everyday Americans are turning their attention to survival preparedness.
In a world where daily living just keeps getting more expensive, Step By Step Prep starts by acknowledging the common limitation of resources with which to prep. The site then works to make every dollar produce real results by guidance through identifiable, achievable steps to preparedness.
The Internet is loaded with so much information about preparedness and survival, it is difficult for people to know where to start. Enter Julianne Duncan and her new website: Step By Step Prep whose goal is to ease others' preparedness journeys. "I want to help people make real gains in self-reliance by simplifying this very large, complex task."
Known online as "JDPrepper," Duncan says, "I am called to this project. If I can help one family, I consider my mission accomplished."
Duncan credits her prior professional life as a scientist for her research expertise, which allows her to effectively evaluate volumes of information. From that research, she develops specific recommendations; however, she doesn't expect her readers to just follow her lead. Rather she demonstrates the logic of her approach by also supplying common options and the "pros/cons" of each.
"This way," she says, "people are able to do what works best for them and their families. They complete each step as they can afford it, and every step is a solid, identifiable, achievable move towards the comfort of self-reliance."
"When I first started prepping, I made some very basic, very common mistakes," Duncan reports. "Beginning preppers frequently buy various neat-looking gizmos. They end up with a bunch of 'stuff,' but don't feel any more well-prepared," she says. She sheepishly admits that one of the first "preps" she owned was a hand-crank clothes washer.
Though prepping herself for years, Duncan only recently founded Step By Step Prep. On her own initial forays into the world of prepping, she realized in short order what was missing among the numerous "top ten" lists, prepper advice forums, and infinite "must-have" products. She says, "What I saw was a tangled web of wonderful information; what I needed was a streamlined, step-wise approach," which she has created with this user-friendly site.
The site prioritizes preparations and presents them in a logical order so that the most important items are accomplished first. This gives people a sense of accomplishment and a psychological boost to keep on preparing.
She says that the more she wrote for the website, the more she realized preparedness sites did not carry many of the items she uses herself, "So I came up with our 'Unique Prepper Boutique'." At Step By Step Prep SHOP, products support new and experienced preppers alike. JDPrepper says, "I have avoided mass suppliers of gear and pre-made kits in favor of carefully selected, high-quality items."
As evidenced by various natural disasters, everyone can benefit from prepping. Says one mother of three, "When my daughter was diagnosed with cancer, I had to quit my job to take care of her. It was, quite literally, the end of the world as we knew it. With our income cut in half, if we didn't have things stored up, we wouldn't have been able to afford our grocery bill."
About JDPrepper: Julianne Duncan is foremost a wife and mother. She is a former scientist who has been a paramedic for 15 years. She now teaches full time and is the EMS program director at a local community college. She holds a BS in Biomedical Science and a MS in Molecular Physiology and Biophysics.