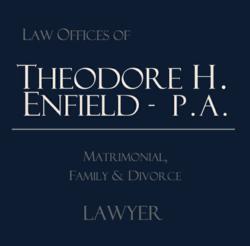 (PRWEB) January 02, 2013
With more than 30 years of experience helping Florida families deal with family law issues such as divorce, equitable property settlement, child custody, child support and domestic violence, Theodore Enfield, a family law attorney, has guided his clients through all issues that are likely to arise during those difficult times.
Many people make an emotional decision to file for a divorce in Miami, Florida without understanding all of the consequences it could have on their lives. When considering the strain a divorce may have on a relationship, children and property, it is important to seek a lawyer's advice. From annulment to legal separation and marital dissolution, spouses have many options for ending relationships.
What about finances? There are certain steps one can take to put the financial house in order before filing for divorce. At the same time, there are certain things one must avoid to stay out of trouble with the family court.
Who is the primary caregiver for the children? The courts will consider the status quo when ordering temporary or permanent child custody and visitation. If one doesn't like the status quo, the time to change it is before filing for divorce.
What about the retirement? Many people are blindsided by the fact that 401(k) plans and pension plans are community property and must be shared with their spouse.
Although they all start with one person filing a Petition for Dissolution of Marriage and end with the entry of a Final Judgment, the process in between can be very different than expected. Choosing the right type of approach at the beginning may save months, or even years, off the length of the process.
Theodore Enfield, a Miami Dade divorce attorney, has wide industry experience and knowledge that enables him to cater to all specific requirements of all his clients by protecting their rights. For further convenience of his clients, Ted Enfield provides a free consultation service to understand his practices prior to taking action on the process. Moreover, throughout the case trials and hearings the clients are updated with their case status.
Ted Enfield, a Fort Lauderdale family law attorney, is broadly acknowledged for providing quality and affordable legal services across South Florida, while all his efforts are directed towards handling all cases with great determination and complete diligence. So far he has successfully handled cases of all family, divorce and Florida Paternity laws which have made him the first choice of his clients.
Theodore Enfield practices include Divorce Alimony, Annulment, Dissolution of Marriage, Equal Distribution of Marital Assets and Liabilities, Child Support, Parental Responsibility and Time-Sharing.
Visit him online at http://www.theodoreenfield.com/ or Contact Theodore Enfield's office today to discuss annulment, child custody, alimony, prenuptial agreements, parental relocation, paternity actions, domestic violence, legal separation and divorce.
Theodore H. Enfield P.A.
19235 Biscayne Boulevard, Suite 105 Miami, FL 33180
Toll Free: 800-733-5299
Phone: 305-933-9592
Fax: 305-933-8575