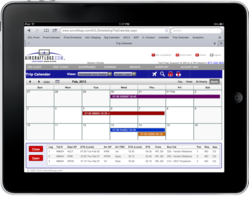 The flight crew can now upload pictures of receipts for expense reporting.
Columbus, Ohio (PRWEB) January 08, 2013
AircraftLogs announced today the full availability of the AircraftLogs system on the iPad® mobile computing platform. The announcement follows the release of numerous scheduling features designed to improve workload for flight departments and corporate staff.
During 2012, the company began soliciting the feedback of ten companies who were either current or prospective clients of AircraftLogs. Their input led to redesign and improvement of many features completed this fall.
The entire system works on either a standard PC or an iPad. "You can perform complete scheduling functions from two screens," said Tricia McGuire, AircraftLogs Product Manager. "We've added many features focused on improving the productivity of the person who serves as the scheduler, and we're continuing to add more." AircraftLogs continues to lead the aviation software industry from a technology perspective, and these new scheduling functions follow that trend.
"You can switch a trip between aircraft in 5 seconds," said Doug Stewart, president of AircraftLogs. "Our industry has always had the problem of software with rich capability, but poor user navigation. Many systems have the information you need, but require cumbersome navigation to reach it. We're focusing on a fast and easy interface. Users stay on just two pages throughout the scheduling process, and many functions are performed with a click - or in some cases - automatically."
The AircraftLogs website provides more information about these new scheduling capabilities, as well as information about adding AircraftLogs to the home screen of your iPad.
See New Features at Booth 1221: At the 2013 Schedulers & Dispatchers Conference, AircraftLogs personnel will be in booth 1221. They will demonstrate use of the iPad, as well as new scheduling features which reduce workload with faster screens and capabilities. Any company wishing to schedule a 20 minute review session at the AircraftLogs booth can do so by clicking here to schedule a time slot during the convention, or call us at 888.359.5647.
About AircraftLogs: AircraftLogs provides web-based aviation data management systems for corporate and private business aircraft. Based at Port Columbus International Airport, its software is available on a SaaS basis (Software-as-a-Service). Additional details are available by calling 888-359-5647 or by visiting http://www.AircraftLogs.com.
iPad® is a trademark of Apple Inc., registered in the U.S. and other countries.