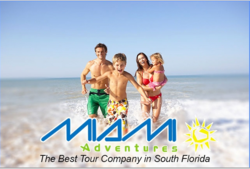 I have never been treated so good! These guys know all of the best places to go to in Miami!
Miami Florida (PRWEB) January 01, 2013
With Miami being such a popular destination for family vacations and getaways there are endless ways to plan your trip. Finding a tour guide in Miami is easy; however it can also be stressful as there are so many to choose from. Miami Adventures created their new website with the idea of relieving the stress of the seemingly never ending search for the perfect guided tours in Miami and the surrounding areas.
Miami Adventures offers a wide range of Miami tour services. From beautiful Key West tours that start by picking the client up at their hotel and driving them all the way across the Florida Keys from Virginia Key down to Key West. Many people dream of touring the Everglades. They offer Everglades airboat tours that take people across one of the most unique eco-systems in the world. Over the course of the Everglades tour, clients are educated about the areas most feared resident, the alligator. They even offer the opportunity to hold a baby alligator at the end of the tour.
This is just a taste of what Miami Adventures offers the prospective vacationer. They have many other tours to choose from including Orlando city tours taking tourists trough the city to see the landmarks and even the parks such as Universal Studios Orlando and Disney World. Many of the tours can be booked individually or combined with other tours that they offer to create a tour package that can fill your entire day. Their new website makes it easy to choose and book a tour or tour package that is right for the whole family. The prices on these tours are amazingly affordable. There are no surprises and the cost is laid out on the website based on the number of people being booked for the tour or package.