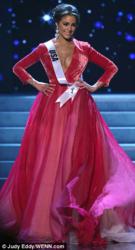 Olivia is one of those rare gems that strikes people from the moment they meet her
(PRWEB) January 02, 2013
Culpo, a student at Boston University had previously entered the 2012 Miss Rhode Island USA competition, capturing the crown and quickly moving on to the Miss USA 2012 pageant where she competed successfully, bringing home the Diamond Nexus made crown and earning the title of Miss USA 2012.
As Miss USA, Olivia Culpo held her title for six short months when she entered the Miss Universe Competition, winning the crown for USA for the first time since Brooke Mahealani Lee in 1997.
"There is no doubt that entering the Miss Universe Pageant where a total of eighty-nine of the most beautiful women in the world competed for the crown and title of the new Miss Universe was extremely challenging. But despite the pressure, and even her own minor onstage wardrobe malfunction, Olivia gracefully recovered and won the judges over with her talent, grace and charm," said Jennifer London, Social Media Coordinator.
"Olivia is one of those rare gems that strikes people from the moment they meet her. She is a great role model for young women, with her musical talents, career ambitions and strong love of family. After interviewing her mother at the 2012 Miss USA competition this past summer, in Las Vegas, it was evident that her entire family stood out as exceptional. We are so very proud to have her wear the Diamond Nexus crown," London concluded.
Diamond Nexus was on location in Las Vegas to witness her crowning moment. "We have built such a wonderful relationship with Olivia, working with her as our Miss USA, that to have her as our new Miss Universe is so exhilarating," commented Kyle Blades, Director of Marketing. "She is an amazing and intelligent young woman and she will no doubt be going far with this opportunity."
After the Miss Universe 2012 show, Diamond Nexus interviewed some of the judges and hosts backstage.
"We got some great ideas for new custom products, covered in sparkling diamond simulants," stated Brianne Smith, Director of Sales. "Suggestions ranged from stone-covered shoes to belt buckles. Of course, the true stand out interview was with Lisa Vanderpump, whose dog Giggy is the adorable little star of Real Housewives of Beverly Hills. She said that he would love having his own tiny tiara. We would love to make that creation for her furry friend."
"Guiliana Rancic professed her affection for her very own Diamond Nexus crown. After hearing how much she had dreamed of owning one, we have no doubt she would find opportunities to wear it everywhere," Smith continued. "With her fabulous style and taste, we know that no matter what she would want to design, Diamond Nexus could make her jewelry dreams come true."
Diamond Nexus was founded in 2004 with the purpose of bringing to the public the powerful benefits of the lab-created diamond simulant revolution. They have over 250,000 customers worldwide that have awarded them an "A+" rating with the BBB, and are the ninth largest online jewelry retailer in America according to the 2011 IR500 list. For two years in a row brides from The Knot have selected them as their Best of Jeweler. Diamond Nexus currently has two retail locations: their flagship store at Woodfield Mall in suburban Chicago, Illinois, and a second store at Mayfair Mall in Milwaukee, Wisconsin. In 2009 the company was named the official jeweler and crown maker of the Miss Universe Organization as part of NBC/Universal's "Green is Universal" environmental initiative.