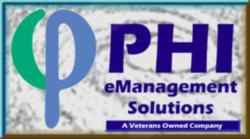 To many of our service members have returned from war and are unable to find work. We wanted to reach out and help them -- Veteran to Veteran.
Newmarket, NH (PRWEB) January 02, 2013
Ralph Huber, President of PHI eManagement Solutions, announces that new veterans resource pages have been added to their website. The focus of our new programs is to provide information resources to members of the veterans community, their dependents, and anyone else with an interest in Veteran's affairs.
This program has three key features. The first is a section where veterans can post resumes, photos, video, and other information that may help them while searching for work. The page is free for all veterans and business cards are available for a nominal charge to cover the printing and postage. In addition, Huber said, there is also a classified sectionwhere Veterans Owned Small Business can place an advertisement. This is also a free service that the company offers along with a companion site MyMilitaryLinks.com.
MyMilitaryLinks.com was started by Huber in 2008 as a personal resource to archive and access military sites that he found helpful. Over time, more folks asked for the URL and it grew into its current form. The hallmark of the site is that it is truly free to use and does not require registration or any user information to access. Huber said we do our best to keep the links current and are always looking for nominations from our user community. However, we try to ensure that every link provides a genuine benefit to our community and is not simply a targeted advertisement.
To help fund the site and keep it in operation, Huber said that they added a Market Place where visitors can purchase emergency preparedness items and some military tactical gear. It is like a small Army/Navy Store, Huber said. Huber explained that by offering items for sale versus asking for donations it helps grow the economy here at home which also helps veterans.
PHI Management Solutions Emergency Management Division, offers many different home and institutional products for emergency planning. They also have free downloads and information links designed to inform and assist individuals, families, organizations and businesses prepare for emergencies. Our team is composed primarily of veterans with over 90 years of combined service. Each member of the team has proven themselves through combat command and has extensive experience in disaster response and planning. Team members have commanded response forces and/or participated in several disaster responses to include the 2005 crash of a civilian airliner in Afghanistan, Hurricane Katrina 2005, Southwest New Hampshire Flooding in 2005, New Hampshire Statewide flooding in 2006, Epsom, NH tornado response in 2007, the 2008 New England Ice Storm, 2009 Anthrax Response in Durham, NH, the 2010 Wind Storm, Hurricane Irene in 2011, the October 2011 New England Snow Storm and Super Storm Sandy in October 2012.