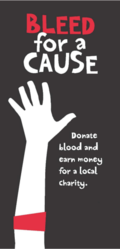 Cincinnati-Ohio (PRWEB) January 17, 2013
The Cincinnati Human Relations Commission (CHRC) has entered to win a blood drive put on by Hoxworth Blood Center. Each non-profit that has entered the contest will try and get as many people as they can to give blood in their name. The top three winners will receive cash prizes for their organization.
The blood drive starts on February 1 and ends February 28. Donors can give blood at any of the 8 Hoxworth blood centers in the Cincinnati or Northern Kentucky area. When donors give blood, say the Cincinnati Human Relations Commission so they can receive points for each donation.
The Cincinnati Human Relations Commission will be hosting a personal day of giving on Wednesday February 13 at Hoxworth Blood Center Blue Ash, located at 9708 Kenwood Rd. The hours of operation are 12 pm- 7:30 pm. If you would like to call a head and schedule an appointment visit https://donateblood.uc.edu/Donor/.
The point system set up, encourages donors to try different ways of giving blood. Each new donor will give the Cincinnati Human Relations Commission 2 bonus points. Each whole donation is 1 point and a double red donation is 2 points. A platelet donor will receive 3 points.
The first place winner will receive $10,000, second place $5,000 and third place $2,500. Come out and support the Cincinnati Human Relations Commission and the Hoxworth blood center by giving a blood donation.
Each donor that gives blood will be helping to save 3 lives with their one blood donation. For more information visit http://www.chrc.us or contact Missy Stearns at melissa.stearns(at)cincinnati-oh(dot)gov, or call at 513-352-3238.