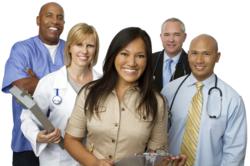 Helping physicians of all specialties since 1991
Fairfield, IA (PRWEB) January 03, 2013
Physicians Employment, one of the largest online job boards for physicians, recently hired software developer Bob Zarrabi to streamline search for users and improve overall site usability. Bob's presence on the Phys Emp Team will help launch a special effort to help emergency physicians, psychiatrists, and ENTs (otolaryngologists) in particular.
"At PhysEmp, we're constantly looking for new ways to improve user experience, and we're extremely excited about the role Bob Zarrabi will play in taking our site to the next level for 2013," says Bob Truog, CEO at Physicians Employment. "Bob brings a tremendous amount of IT talent and enthusiasm to the table, and we're looking forward to seeing him leverage those skills to help us serve clients better."
Zarrabi holds a Masters in Computer Science and recently proved his mettle as a C# .NET developer at Genetic ID in Fairfield, where he created new components and modifications for custom technologies.
Zarrabi will assist the PhysEmp team in improving client services and creating solutions to help manage physician candidates in the site's Physician Database—which offers a wide range of jobs for physicians, including specialties such as emergency medicine, ENT (otolaryngology), maternal fetal medicine, psychiatry, and more. Upcoming features for physicians will include a login where doctors can customize their user experience and update contact information, specialty training, and more.
Physicians Employment has been connecting recruiters with outstanding physicians in all specialties since 1991. Starting as a magazine in 1990 and moving online in 1994, PhysEmp.com has more than 25,000 job listings for more than 200 specialties. PhysEmp prides itself on fast, easy physician job search; streamlined usability; and its friendly, experienced customer service team.
PhysEmp.com offers a wide range of services to assist physicians in searching for employment, including the ability to apply to an unlimited number of positions for free and access the contact information of interested recruiters. Physicians can also sign up for job listing updates in selected specialties and send their CVs directly to recruiters who have posted positions. Both locum tenens and permanent positions are available for every specialty. While Internal Medicine, Family Practice, and Hospitalist positions remain popular, PhysEmp looks forward to helping emergency medicine physicians, psychiatrists, and ENTs (otolaryngologists) in 2013.
To learn more about Physicians Employment, call 800-267-6115.