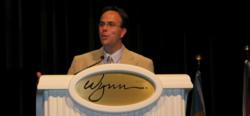 St. Paul, Minnesota (PRWEB) January 08, 2013
John Nemo, Founder and CEO of Nemo Media Group, a debt collection marketing agency based out of St. Paul, Minnesota, recently spoke at the Wisconsin Collectors Association Annual Fall Conference to rave reviews. Nemo gave two presentations on subjects ranging from collection agency PR strategies to leveraging social media to win new clients and increase revenue.
"John helped me understand what I'm not using right now and made me realize there are opportunities out there that I'm not capitalizing on," said Pauline Kussart, conference attendee and owner of H.E. Stark Agency, an accounts receivable solutions firm headquartered in Madison, Wisconsin. "The most beneficial part was that after the presentation, I came outside to look for John to see when we could get a deal put together!"
Nemo Media Group provides debt collection marketing services including PR, video production, social media, SEO, sales/lead generation tools, content writing, website development, and more. John Nemo is the former PR Director for ACA International, the Association of Credit and Collection Professionals, which represents more than 5,000 debt collection agencies, creditors, debt buyers, attorneys and vendor affiliates. He is also a nationally-sought-after speaker in the debt collection industry.
"I have always loved interacting and engaging with collectors and professionals in the collection industry," Nemo said. "Public speaking is a huge passion of mine and I truly enjoy being in front of an audience and getting my message out there."
Joe Leventhal, Manager at Professional Collectors Corporation and conference attendee, had this to say after Nemo's presentation on social media: "There is a challenge with our industry in being up with technology and things like social media, and John introduced me to some things I never even considered doing ... I would even venture to say that with what's going on in our industry, this was the most beneficial part of the conference."
Nemo plans on speaking at several regional and national industry events in 2013. He says his goal and the mission of Nemo Media Group is to help clients successfully leverage public relations, social media, video and other marketing tools to increase their revenue, win new clients and enhance their brand online.
ABOUT NEMO MEDIA GROUP
Founded by former ACA International PR Director John Nemo, debt collection marketing agency Nemo Media Group helps collection agencies increase revenue, win new clients and enhance/protect their brand online.