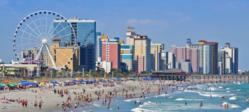 North Myrtle Beach, SC (PRWEB) January 10, 2013
CENTURY 21 Strand Group is pleased to announce Jim Daniel as its new Director of Sales. Jim's leadership experience includes over 30 years of ownership in the textile industry managing his company of approximately 120 employees. After selling his business, Jim began his real estate career in 2004, focusing on general brokerage and oceanfront condominiums in the Myrtle Beach area.
Jim has been affiliated with CENTURY 21 Strand Group since its inception and has been instrumental in the early successes of the company. In his new role, Jim will assume direct supervision of the sales force and will work directly with all of the CENTURY 21 Strand Group agents with recruiting, training, productivity and management responsibilities.
ABOUT CENTURY 21 STRAND GROUP
CENTURY 21 Strand Group is the Myrtle Beach area's oceanfront property authority. Specializing in Myrtle Beach condos for sale, our agents are knowledgeable and experienced in buying and selling oceanfront properties. Our website, http://www.oceanfrontcondosforsale.com, features innovative and easy to use search tools displaying all of the properties listed in the local Multiple Listing Service (MLS). The site also features exclusive shopping tools such as the Non-Binding e-Offer, Price Check, Ownership Economics and access to area foreclosures. Our ten exclusive on-site sales locations offer our customers direct access to the some of the best oceanfront properties in the Myrtle Beach area.
SALES OPPORTUNITIES
CENTURY 21 Strand Group is currently recruiting experienced agents for oceanfront condominium sales. Our principals have over $1 billion in real estate development and acquisition experience. Highlights include: No Franchise Fees - No Desk Fees – No Hidden Charges, Access to On-Site Sale Offices, Excellent Compensation Plans Including Credit for Prior Sales, Company Listings with Bonus Payouts, Collaborative Team Environment, High-Traffic Websites Generating Leads for Agents and Free Lead Delivery and Lead Management System.
For real estate or career inquiries, please call 843-280-2121 or send an e-mail to info(at)c21strand(dot)com