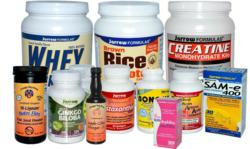 Jarrow Formulas has consistently provided that benefit and we are happy to include their products in our roster of well-known, quality and trusted brands.
Brooklyn, NY (PRWEB) January 04, 2013
Everyday Vitamin, an online retailer of branded vitamins and dietary supplements, announced that they added Jarrow Formulas' product brand to their supplement roster. Everyday Vitamin carries a robust array of Jarrow products that address health concerns such as: blood sugar management, cardiovascular health, energy support, gastrointestinal health, sports nutrition, weight management, and vision health, among others.
"As a natural health retail company, our mission is to bring the best names and brands to our customers that improve quality of life," said Wayne Xu, Vice President of Everyday Vitamin Nutrition LLC. "Jarrow Formulas has consistently provided that benefit and we are happy to include their products in our roster of well-known, quality and trusted brands."
About Jarrow Formulas
Jarrow Formulas has been dedicated to providing safe, effective and affordable dietary supplements for over 35 years. They offer extraordinary multi-vitamins and supplements that promote excellent health using innovative ingredients. Their products include but are not limited to: vitamins, minerals, probiotics, standardized herbal concentrates, amino acids, enzymes and nutritional products.
Jarrow Formulas specialize in many therapeutic areas including, but not limited to, beauty, bone support, brain support, cardiovascular health, men's and women's health. Their formulations consist of, mainly, single active ingredients and proprietary blends that exist in high quantities for added effectiveness. Such ingredients include: Astaxanthin for skin care and bone health, Acetyl L-Carnitine and Co-Q10 for cardiovascular health, Ginko Biloba for memory support, Sam-E for joint nutrition, and proprietary formula, Jarro-Dophilus® for intestinal and immune support, among others.
Jarrow's products are monitored and regulated by officials to maintain safe and effective products for their customers. Their products use pharmaceutical graded-ingredients, which are made in facilities registered with the Food and Drug Administration (FDA) and certified to produce prescription drugs. Jarrow Formulas commit to funding research studies and working with academia and independent scientists to conduct clinical studies.
About Everyday Vitamin
Everyday Vitamin Nutrition LLC, is a natural health company based in Brooklyn, NY and online retailer that aims to promote nutrition and health through the sale of vitamins and supplement products, herbs and homeopathic remedies. These products include vitamins, minerals, dietary supplements, diet and weight loss teas that provide numerous health benefits that assist in weight loss management, exercise nutrition and improving overall health.
Everyday Vitamin carries hundreds of well-known, trusted brands such as Genesis Today, Life Extension, Nature's Way, and Now, which have been proven safe and effective by solid scientific research.
Visit Everyday Vitamin at: http://www.everydayvitamin.com for more information.