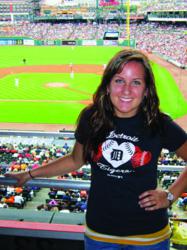 By treating her ET with medication, Amy Timcoe, "can follow [her] dream of becoming a nurse without the worry that tremor will get in the way."
Lenexa, KS (PRWEB) January 02, 2013
The International Essential Tremor Foundation (IETF) is pleased to award a $500 scholarship each for the 2012-2013 academic year to five students: Amy Timcoe of Woodhaven, MI; Carolina Conway of San Diego, CA; Emily Morris of Georgetown, SC; Katherine Hickey of Blacksburg, VA; and Kaleigh Knapp of Concord, NC.
"Because these students experience a great deal of difficulty with a variety of educational activities that require fine motor skills," explains Catherine Rice, Executive Director of the IETF, "their determination and perseverance is a testimony to their resolve to continue their education."
The scholarships are for supplies and/or books at licensed, accredited institutions of higher education and are paid directly to the educational institution. The IETF provides support for these selected students in order to lessen the financial burden of attaining higher education.
Essential tremor (ET), although affecting an estimated 10 million Americans, is not commonly recognized by the general public. This life-altering neurological condition causes rhythmic shaking of the hands, head, and voice.
About The International Essential Tremor Foundation:
Headquartered in Lenexa, KS, and founded in 1988, the International Essential Tremor Foundation is the leading organization in the world dedicated to those affected by essential tremor. The mission of the IETF is to fund research that will find the cause of essential tremor and lead to better treatments and a cure, increase awareness about ET, and provide educational materials, tools and support to healthcare providers, the public, and those directly affected by ET.
The IETF has distributed more than $600,000 in research grants, to fund 24 promising studies, in the search for the cause of ET. The Foundation has hosted numerous community awareness events across the U.S. to provide those affected with the basic knowledge necessary to become their own advocate when seeking treatment. And, the IETF also provides assistance to a vast network of support groups around the world. To learn more about essential tremor and the IETF mission, visit the IETF website at http://www.essentialtremor.org.
###