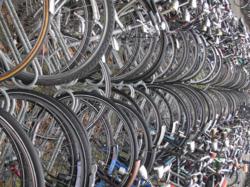 From cycling to site seeing, connecting with colleagues, and learning all along the way, it will be a powerful and valuable experience for all the participants.
New Delhi, India (PRWEB) January 01, 2013
More than 100 technologists, entrepreneurs and digital marketers will cycle out from the Red Fort in Delhi at 7AM on Jan 5, headed for Meerut, the first stop on a 25 day bicycle adventure in search of the sites, towns, and countrysides that make India magnificent.
This grass-roots event for technologists, entrepreneurs, and digital marketers is the brainchild of serial entrepreneur, Gillian Muessig (@SEOmom), co-founder of SEOmoz, CEO Coach for WebmasterRadio.fm, Startup mentor for Microsoft, and Board member at companies in four continents, including OMLogic of New Delhi.
"It's time that the community of technologists, including tech entrepreneurs, digital marketers, coders, web devs, analytics gurus - indeed all members of the tech communities of India connected offline in a rollicking, wonderful-fun, adventure," Ms. Muessig said. "The idea is to take people out from behind their desks for just a day or perhaps they will choose to ride with us for a few days. We will talk 'shop' along the way, learning from each other, sharing strategic and tactical advice, and making long term connections that increase everyone's effectiveness and power in the industry. I'm very excited to see so many willing to take this first ride of what we hope will be many."
SearchCycle India 2013 will leave from the Red Fort in Old Delhi, heading to Meerut for the first night's meetup. Professionals in all capacities that work for tech companies or are hoping to build one of their own are encouraged to join the cyclists for the ride or simply meet up in Meerut at the end of the day. Readers can get information about SearchCycle India and the evening meetups at each city by checking out the Facebook Event Page at: http://www.facebook.com/events/300404703412583/. Ms. Muessig hopes that more than one thousand will follow their progress and tweet, retweet, blog and spread the news about the zany adventures of technologists on the road.
Why SearchCycle? Why not travel in a car? And why choose India for the first event? Ms. Muessig has solid answers for all these and many more questions.
"We spend too much time behind our desks. The health of the nation and the world rests our willingness to increase exercise, so we'd best have a really good time doing it. I don't like to exercise, but I love to meet people, see wonderful sights, explore, and talk about technology and entrepreneurship. And while those are all good reasons for joining us, the truth is that my brother, the intrepid James Muessig of the custom luxury travel tour startup Kent & James from New York City, put together the entire itinerary and convinced me to complete it. Kent & James tours are unlike any other - a mix of crazy things like bicycling through the countryside to experience the world moving at a slower pace, combined with extraordinary experiences such as a night as the Lake Palace hotel in Udaipur. We'll be in good hands all the way.
"As for why I am beginning the SearchCycle events in India. India is one of the most exciting places on the planet today, especially for technologists, entrepreneurs and digital marketers. There is so much opportunity and so much excitement. I will be looking to meet as many startup entrepreneurs as possible. I will bring their stories back to the investment community in the US, EU, and beyond. Many companies require startup investment; there are also many who are looking for exciting new markets. I am looking to make connections."
SearchCycle India 2013 will certainly be one of the most exciting gatherings of professionals in the tech sector in a long while. From cycling to site seeing, connecting with colleagues, and learning all along the way, it will be a powerful and valuable experience for all the participants. To date, there are no corporate sponsors, but inquiries are welcome.
About GMR Web Team
GMR Web Team is under the umbrella of Global Marketing Resources, LLC, a marketing-focused Orange County website design agency, actively involved in Internet strategy, website design, web marketing, mobile web design & marketing, and website maintenance. Global Marketing Resources has been focused on helping small businesses market their products since its inception in 2001. The company started to focus on the website needs of small businesses in 2003 and develops web strategy, designs turnkey websites, manages it and provides web marketing support like search engine marketing, social media marketing and pay per click advertising.
Headquartered in Tustin, CA, Global Marketing Resources has a development and marketing team of over 70 employees.