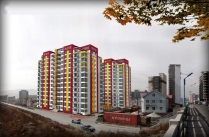 GDP growth at a whopping 17.3%,
Ulaanbaat, Mongolia (PRWEB) January 02, 2013
Jan 2, 2013, Mongolia Properties Release their 2013 Real Estate Report detailing information from political and tax overviews to demand drivers and supply constraints for the upcoming year. With the recent upward movement of the Mongolian economy, Mongolia has become an attractive place for overseas investment with Mongolia Properties leading the way. The 2013 Real Estate Report can be found by clicking here.
Mongolia Properties specializes in many aspects of Mongolian real estate from education with annual reports like the new 2013 report, to personal and corporate relocation, property development, legal services, furnishings, sales, general consulting and more. They continue educating by providing article and information on other aspects of Mongolia, from detailed information on the capital city, Ulaanbaatar, to culture, economy, geography, practical information and more. This information is helpful for those not familiar with Mongolia or the recent economic changes in country.
Mongolia was the fastest growing country in the world in 2011, with real GDP growth at a whopping 17.3%, significantly outperforming every one of the BRIC economies. World Bank estimates suggest 2012 will play out in much the same way: based on Q1 observed data, real GDP growth is forecast to be 16.7%, in comparison to 5.8% across the BRICs, and 2.5% worldwide. As much of the country's potential remains untapped, double-digit GDP growth is expected to continue well into the midterm. Mongolia is a country the size of Western Europe, sandwiched between Russia and China.
Mongolia is generally considered to be a relatively easy country in which to conduct business, with free currency exchange, a stable democratic government, and a favorable tax environment. The country peacefully transitioned to a democratic system in 1990 with multi-party elections adopted in 1992. Quick to embrace Western democratic principles, Mongolia is often used as an illustration of a successful transition in contrast to that of many other former soviet states. In addition, to encouraging FDI, the Mongolian government has adopted a highly favorable tax regime, both for individuals and companies. Personal Income tax is fixed at 10% and corporation tax varies from 10% to 25%. VAT is charged at 10% and there is no capital gains tax.
For more information visit mongolia-properties.com or e-mail info(at)mongolianproperties.com.