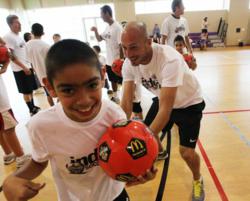 Family Voices is dedicated to the health and wellness of all children...we want to celebrate families of CYSHCN and/or disabilities who are making healthy choices. (Lynn Pedraza PhD, Executive Director, Family Voices)
Albuquerque, NM (PRWEB) January 11, 2013
As 2013 begins, Family Voices celebrates how families of children and youth with special health care needs (CYSHCN) and/or disabilities are making choices that help their children grow up healthy, and learn how to stay healthy as they become adults. The "New Year, New Healthy Choices" raffle marks the beginning of a year-long focus by Family Voices on improving health and wellness across the lifespan for all children and youth, including those with special health care needs and/or disabilities. Only one entry can be made for each child, but a family can enter more than one child in the raffle. Winners will be announced by February 4. All entrants will receive a free one-year membership to Family Voices.
To enter, families can go to http://www.surveymonkey.com/s/FV-Raffle-Jan2013. Entering takes about five minutes.
For this raffle, families will describe some of the activities they do, and the choices they make, that help their children grow up and stay healthy. They will share photos of their children engaged in healthy activities. Families that enter will be given a one-year membership to Family Voices, and be entered in a drawing for a $50 Target gift card. Family Voices members receive targeted emails with information that is of interest to families of CYSHCN and/or disabilities across the country, a membership certificate, and discounts on Family Voices events and selected publications. Entries will be submitted in three age categories: 0 – 7, 8 – 14, and 15 – 21, and one gift card will be drawn for each category.
The categories of healthy activities that the families can demonstrate are:

Healthy Nutrition
Physical Activity
Healthy Weight
Oral Health
Safety and Injury Prevention
Health Care Provider Visits
These are several of the themes in the "Bright Futures for Families" effort which is supported by Family Voices IMPACT, a project funded by the U.S. Department of Health and Human Services, the Health Resources and Services Administration, and the Maternal and Child Health Bureau. (For more information, see http://www.brightfuturesforfamilies.org/materials.shtml )
Family Voices Executive Director Lynn Pedraza said:
"Family Voices is dedicated to the health and wellness of all children. We know that supporting healthy choices for CYSHCN and/or disabilities often requires extra planning and focus and want to celebrate the dedication and creativity of families of CYSHCN who are making healthy choices. That's what our Project IMPACT is all about. This raffle is a fun way to share the inspiration we feel on this topic with families all across the country. "
More Information about the "New Year, New Healthy Choices" Raffle

Raffle entries can be submitted between January 1 and January 31.
One drawing in each age category, 0 – 7, 8 – 14, 15 – 21, will be completed on Friday, February 1.
Entries will NOT be judged in any way, and winners will be chosen randomly.
Family Voices may share entries on the organization's web site and Facebook page, as well as through other Family Voices outreach.
Drawing winners will be announced by Monday, February 4.
As part of the entry process, families are asked to share a photo of themselves with their child or children with special health care needs and/or disabilities engaging in one or more of the healthy activities/healthy choices topic areas presented above.
For more information about the Family Voices Fall "New Year, New Healthy Choices" Raffle, or about Family Voices http://www.familyvoices.org , please contact Family Voices Director of Communications and Strategic Initiatives,