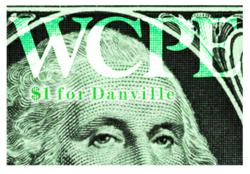 WCPE is proud to be able to grow in Central North Carolina and Southside Virginia
WAKE FOREST, N.C. (PRWEB) January 02, 2013
WCPE's General Manager Deborah S. Proctor announces the opportunity to expand Great Classical Music 24 Hours A Day by upgrading the Danville Virginia translator W275AW 102.9 FM into a fully licensed protected station. The new station will be licensed to Milton, NC.
This endeavor will be made possible the same way the past 35 years of programming has been—by listener support. The cost of upgrading happens to be equal to $1.00 per WCPE listener.
"I'm putting $1000 of my money where my ears are," says Proctor, who is one of the founders of this independent listener-supported community station. "Can you send in one George Washington?"
Warning! Technical stuff ahead!
A translator is limited to less than 250 Watts power and will have no protection from encroachment from adjacent stations. Its license may be revoked by the FCC if another fully protected station is granted a license on that frequency.
A fully protected licensed facility will be above 250 Watts (Milton will be 2700). Its local geographic area of coverage (60dbu) is protected from encroachment by another station.
"WCPE is proud to be able to grow in Central North Carolina and Southside Virginia," adds Proctor.
The enjoyment of the classics can be expanded to others by sending in a donation of $1.00 or more to WCPE Upgrade, PO Box 897, Wake Forest, NC, by calling 800/556/5178 or by secure web pledge here.
WCPE's live broadcast of Great Classical Music, 24 Hours A Day can be accessed around the globe in several ways; on-line streaming in multiple formats, including IPv6, local cable television systems and traditional radio broadcasting. A complete list of the ways WCPE is available with instructions for cable and satellite reception can be found at theclassicalstation.org/listen.shtml. In central North Carolina and southern Virginia, WCPE is found on the radio at 89.7 FM.
About WCPE:
Since 1978 WCPE 89.7 FM has been dedicated to excellence in Great Classical Music broadcasting. WCPE is one of the first community-supported stations to stream on the Internet. The programming is available on our own satellite channel and on multiple Internet streams, including IPv6. WCPE receives no tax-derived support, rather depends on tax-deductible support through on-air fundraising and mail-out campaigns. More information can be found at http://www.TheClassicalStation.org or by calling 919-556-5178.
###
Media Contact:
Curtis Brothers
919.556.5178
curtis(at)TheClassicalStation(dot)org