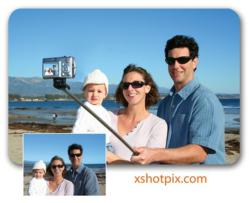 We are thrilled to be at CES for the third year and are looking forward to presenting our new products, building new relationships along with meeting CES press and bloggers
Santa Barbara, CA (PRWEB) January 02, 2013
XShot LLC is pleased to announce its presence at the upcoming International Consumer Electronics Show in Las Vegas with the popular XShot camera and iPhone accessories. XShot will unveil new prototypes and product enhancements on booth 3529.
When: January 8-11, 2013
Where: 2013 International Consumer Electronics Show at the Las Vegas Convention Center; LVCC North Hall, Grand Lobby, Booth#3529.
To set up an appointment, please contact the office at (805) 617-4637 or email sales(at)xshotpix(dot)com
What: XShot will showcase its whole line of accessories and provide presentation and demonstration of the popular camera extenders, iPhone Tripod Cases and Kayak Mount. Exclusively for CES, XShot will unveil new prototypes and product enhancements on booth 3529.
"We are thrilled to be at CES for the third year and are looking forward to presenting our new products, building new relationships along with meeting CES press and bloggers" said Michael Daoud, co-founder of XShot.
What to see at the XShot booth:
New XShot Pro camera extender: Unveiling the ultimate camera accessory to capture the action. A whole new design to support point of view cameras such as the GoPro® Sony® Action Cam and Contour® Cameras.
XShot 2.0 and Pocket XShot telescopic camera extenders that attach to any compact camera to allow the photographer to be in the picture too. Very popular with travelers and bloggers.
XShot iPhone Cases, exclusive cases that treats the popular Smartphone like a camera with the right accessory. The XShot case provides full protection and integrates the ability to mount to any tripod, camera extender, and other stabilizing device with ease using a detachable tripod adapter. A perfect match for the enhanced 4S and 5 optics.
XShot Kayak Mount allows fishermen and kayakers to take hands-free photo and videos on the water.
Who: XShot LLC is a leading innovator in the camera accessory market. Everyday photographers including iPhone users no longer have to try and stretch their arms as far as possible to get a picture, let alone capture the full background. XShot camera accessories are precision-engineered devices that are durable and compact, and have become popular with travelers, social media users, bloggers, honeymooners, outdoor lovers, families, and digital scrapbook fans.