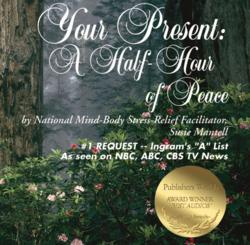 "For anyone who leads a particularly stress-filled life, peaceful imagery gently guides listeners into a calm, meditative state."- Weight Watchers Magazine (On Susie Mantell's award-winning stress relief meditation CD, "Your Present: A Half-Hour of Peace"
Chappaqua, New York (PRWEB) January 02, 2013
- 8 Simple Tips to Make Lasting Positive Changes in the New Year -
Tired of making (and breaking) the same New Year's resolutions? Every January, people vow to eat healthily and get fit, stress less, sleep more, quit smoking, drinking or swearing. A month later, old habits are back. Award-winning stress relief expert Susie Mantell explains, "When it comes to New Year's resolutions, people often miss the mark because they've been aiming in the wrong target."
Mantell, author of the bestselling meditation CD for relaxation, "Your Present: A Half-Hour of Peace" ("Best Audios Award" –Publishers Weekly) continues, "People find themselves making the same New Year's resolutions year-after-year because most negative habits tend to activate under stress. What if we could make a few gentle changes to reduce the stress that triggers those behaviors, instead of a grueling inventory of futile promises?"
#1 New Year's Resolution: "Lose Weight"
Those same ten pounds back again? Figure out *why* you want to be more fit. A genuine desire for a healthy body is a far more effective motivator than smaller jeans. Preview restaurant menus online to pre-plan healthy choices. Numbers (e.g. sizes, calories, fat grams) can be safety nets for some -- booby traps for others. Find a licensed counselor to help explore "emotional hunger." Nutritionists can teach healthy portions. Build in weekly stress-buster rewards like massages, flowers, movies.
2. "Exercise More"
Enlist those mood-elevating endorphins. Download "feel-good" songs and move every day. Walking buddies help pass the time, and provide opportunities to talk through what's on your mind. Even moderate walking can boost endorphins.
3. "Reduce Tension"
Find a quiet room. Eyes closed, and tongue resting softly behind your top front teeth, inhale gently. Visualize soothing light sparkling into muscles, dissolving tension. Imagine exhaling tension, muscles s-t-r-e-t-c-h-i-n-g like warm taffy. Listen to your body for a comfortable pace, avoiding light-headedness. Try re-positioning car seats, monitors.
4. "Get Better Sleep"
These days, many have difficulty falling, or staying, asleep. The resulting stress and fatigue can trigger unhealthy habits. Eat dinner before 8 PM. (Digestion can initiate a stimulating metabolic boost.) Create a soothing sleep environment. Dim lights a half-hour beforehand. Decompress with a bath, meditation, relaxation CD, massage. Try new pillows. Avoid bedtime News. If you wake to use the bathroom, open your eyes just enough to navigate safely. Gently drift back to sleep. More Sleep Tips
5. "Worry Less"
Inhale "Soothing Peace," exhaling "Worry and Fear." Journal for ten minutes, morning and night, writing quickly, without editing. The body-mind's inner wisdom can guide us to surprisingly wise insights. More Worry Tips
6. "Stress Less About Work"
Ask yourself:

Is this necessary right now?
Is there a simpler way?
What other options are there?
Who could help?
Will this matter in six months?
Is this An Emergency... or just An-Noying?
7. "Be More Joyful"

What traits do you value most in yourself? In others?
Ask positive people what they do to reduce stress.
List three activities you enjoy. Schedule those.
What can you do in the next 5 minutes to feel more cheerful?
When's the last time you laughed? Danced?
Make plans with someone with an upbeat outlook.
Find 6 things a day that make you smile.
8. "Be Kinder"
Before criticizing, consider, "Does this really need to be said now? Must it be said by me?" Print the following quote and re-read weekly: "Oh, the comfort, the inexpressible comfort of feeling safe with a person, having neither to weigh thoughts nor measure words, but pouring them all out, just as they are, chaff and grain together, certain that a faithful hand will take and sift them, keep what is worth keeping, and with a breath of kindness blow the rest away." (Dinah Craik, 1826 – 1887)
________________________________
"Life really is short," adds Mantell. "Whatever your goals, celebrate successes, forgive any imperfections, and try again tomorrow. If, after repeated attempts, you sense there may be a biochemically addictive quality to a behavior, millions have found recovery in counseling, and various 12 Step programs found worldwide." Citibank VP, Ann Mitrione says of Susie Mantell's stress management seminars, "Not only did she relieve our stress, but taught us ways to manage stress on our own." Weight Watchers Magazine wrote, "For anyone who leads a particularly stress-filled life, peaceful imagery gently to guides listeners into a calm, meditative state." Susie Mantell's bestselling stress relief CD, "Your Present: A Half-Hour of Peace" and more stress tips on are available on Relaxintuit.com.
________________________________
About Relax Intuit™ LLC
Based in Westchester County, NY, Relax Intuit™LLC is a highly ethical provider of acclaimed stress relief expert Susie Mantell's award-winning guided imagery meditation for relaxation, "Your Present: A Half-Hour of Peace,"(CD) and her seminars for corporations and medical professionals. Mantell also provides individual stress management phone consultations by appointment. Relaxintuit.com and Susie Mantell's work are intended as an adjunct to, never a substitute for, professional health care. Visitors and clients should always consult their own licensed medical and mental health professionals regarding any practice or suggestion that might in any way affect an individual's health or safety. Twitter @relaxintuit