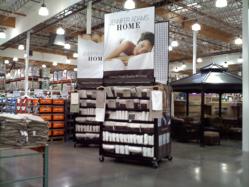 Having AALMG leading the licensing efforts is the ideal strategic partner in building Jennifer's fast growing licensing, endorsement and retail businesses
Los Angeles, CA (PRWEB) January 08, 2013
Jennifer Adams, one of the leading names in home today, has signed with All-American Licensing & Management Group to develop a comprehensive lifestyle-licensing program.
The designer, who's worked on over a billion dollars in residential and commercial properties over the past decade, boasts a branded bedding and furniture line, Jenifer Adams Home, the very first high-end furniture line carried at Costco. In 2009, she launched her eco-friendly bedding line, which she recently expanded to include custom sofas, chairs, dressers, and tables.
Robb Dalton, Chief Strategy Officer for Jennifer Adams Worldwide, stated, "As the former Chief Creative Officer of IMG I had the pleasure of working with Tim Rothwell and Michael Gottsegen with some of the world's most successful sports figures, sporting events, models and fashion events in securing licensing partnerships. "Having AALMG leading the licensing efforts is the ideal strategic partner in building Jennifer's fast growing licensing, endorsement and retail businesses, " Dalton added.
Courtesy of her new partnership with AALMG, the designer will also have the opportunity to expand her brand to include a variety of products within the fashion, and apparel categories as well as pet, textiles and additional home furnishings. With more than 70 years of licensing experience, AALMG is committed to connecting Adams with opportunities that not only generate new revenue streams, but also build brand loyalty and awareness. According to AALMG Partner Tim Rothwell, "We are thrilled to be working with Jennifer Adams, a true American success story. She already has a proven track record and we look forward to exponentially growing her empire."
About All-American Licensing & Management Group (AALMG)
All-American Licensing & Management Group (AALMG) is a full-service branding agency specializing in client management, licensing, endorsements and retail development. Headquartered in Los Angeles, AALMG has an impressive roster of clients ranging from top consumer brands to celebrities. Founded in 2011 by veteran licensing executives Tim Rothwell and Michael Gottsegen, both formerly of IMG, AALMG provides their clients with a global network of relationships as well as a track record of success. Rothwell is a licensing and business veteran who has recorded the largest licensing deals, in multiple categories, in the industry. And with more than 30 years experience, Gottsegen has garnered numerous awards including his induction into the In Store Marketing Institute's "Hall of Fame." For more information on AALMG, go to AALMG.com.
About Jennifer Adams Worldwide
After years of research and product development designed to refine the sleeping experience of guests at high-end resorts and an ever-discerning clientele, interior designer Jennifer Adams launched her bed ensemble. In 2011 Jennifer Adams Home became one of the first companies to make the leap directly from online retailer to the second largest retailer in the country, Costco. Jennifer's products, which now include beds, sofas, tables, and chairs, are available at Costco locations all over the US with plans for international expansion in 2013. Adams story began in a 1,000 square-foot home for six in Oregon where she'd often get inspired to redecorate her small room. It was this creativity and passion for decorating that led to the launch of her award-winning interior decorating firm, Jennifer Adams Design Group, the creation of Jennifer Adams Home bedding and eventually the start of the Furniture Collection by Jennifer Adams. Adams also appears as the design expert on "The Better Show", a nationally syndicated morning TV show from the creators of Better Homes & Gardens. She believes in the power of giving back and has spent several years working with organizations to support the development of troubled youth, as well as a new initiative to provide bedding globally to those in need. For more information on Jennifer Adams, go to: http://www.JenniferAdamsHome.com
Contact:
Michael Gottsegen (818) 749-7236
Michael@AALMG.com