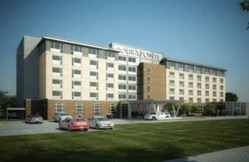 CLC's strength is having access to a broad variety of lending options not just one source. Having a 33 year underwriting veteran on board like Ric Cavallero is what is needed to get loans like this one closed.
Newark, Delaware (PRWEB) January 07, 2013
Commercial Lending Corporation™ (CLC) has recently arranged a Hotel Loan for $11,500,000. The Loan was an 85% CLTV, construction loan for the conversion and expansion of an existing Comfort Suites, to a 6-story 120-room Four Points by Sheraton in Newark, Delaware. This property qualified for the SBA Green 504 program and will operate as one of Delaware's first Green Hotels.
The existing hotel had been closed for over 18 months in anticipation of the conversion, but the prior construction lender was unable to fund its commitment, and was eventually merged with an institution that does not extend hospitality loans. CLC placed the loan in spite of numerous prior efforts by both the principals and brokers. CLC's borrower is an experienced hospitality owner, and operates a limited service hotel in the immediate area of the Four Points conversion. The borrower was the original developer of the closed Comfort Suites, and was familiar with both the area and local hotel market.
Additional examples of various property types of recently closed loans can be reviewed on the company website on http://www.sbaclc.com. Click on Recently Closed Loans.
Commercial Lending Corporation is an A+ Accredited Member of the Better Business Bureau.
Richard M. Cavallero, Underwriting Manager, underwrote the file. Ric has 33 years of underwriting experience and has underwritten and closed a variety of commercial real estate project that others have not been able to.
For any additional underwriting questions or scenarios please contact:
Richard M. Cavallero, Underwriting Manager
Commercial Lending Corporation™ since 1997
The Meridian Center
9800 Mount Pyramid Court, Suite 400
Englewood, Colorado 80112
Phone: 303-923-8200
Email: richard.cavallero@sbaclc.com
Website: http://www.sbaclc.com
Corporate contact:
Michael W. Kidwell
Direct: 303-771-1031
Email: mike@sbaclc.com
Website: http://www.sbaclc.com